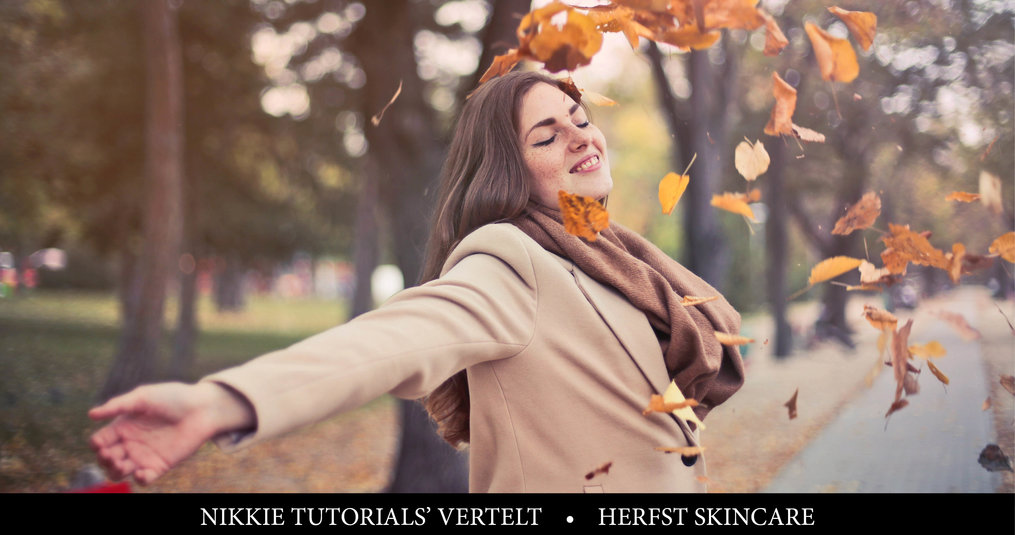 In dit blog vertelt NikkieTutorials hoe je je huid het beste kunt verzorgen in de herfst. Bij het veranderen van de seizoenen verandert ook jouw huid. Hierdoor is het belangrijk dat je de verzorging van je huid hier ook op aanpast en je realiseert welke veranderingen in jouw huid het weer met zich meebrengt. Wil je net als Nikkie ook in de huid een stralend en gezonde huid, lees dan snel verder.
Huidverzorging in de herfst

Wat een heerlijke zomer hebben we gehad! Na een zalige vakantie en een even geweldige nazomer in eigen land zitten we hier weer in het gewone ritme. Terwijl ik dit schrijf klettert buiten een van de eerste najaarsbuien tegen de ramen. Binnenshuis is het een stuk frisser geworden en ik zet snel de verwarming een paar graden hoger.
Die verwarming is voor mij het teken om mijn huid weer eens een oppepper te geven. Tijdens de warme zomermaanden heeft die het namelijk flink voor de kiezen gekregen: het zeewater, het chloor in het zwembad, transpiratie, airco's en natuurlijk de zon hebben mijn huid behoorlijk uitgedroogd. En nu de koude en winderige herfst voor de deur staat, is het tijd om die schade te herstellen en mijn huid winterklaar te maken. Om te zorgen dat ook jij geen last krijgt van een droge en jeukende huid, deel ik hieronder mijn tips voor huidverzorging in de herfst.

Masker
In de zomer maakt je huid een extra laagje aan ter bescherming tegen UV-straling. In de herfst is deze laag overbodig. Met een masker kun je hem weghalen (exfoliëren) en je huid zuiveren.
Scrubben
Scrubben is niet alleen voor in de zomer! Wanneer je ook in de herfst een keer per week scrubt, worden je huidcellen vernieuwd en voorkom je een doffe huid met schilfertjes. Om uitdroging door het scrubben tegen te gaan, kun je het best een scrub op oliebasis gebruiken. Kijk goed welke scrub het beste bij jouw huid past.
Gezichtsverzorging
Sinds een aantal jaren gebruik ik per seizoen een andere gezichtscrème. Ik merkte namelijk dat de creme die ik in de zomer gebruikte, niet voldoende bescherming bood in de herfst en winter. In de zomer is bescherming tegen UV-straling het belangrijkst, in de winter is naast de uv-bescherming een voedende, vochtinbrengende bescherming tegen temperatuurswisselingen noodzakelijk. Afwisseling is ook beter voor de huid.

Douchen en baden
Heerlijk, zo'n warme douche of warm bad met lekker geurend bad- of doucheschuim. Jammer genoeg drogen het warme water en het schuim je huid uit. Beter kun je lauwwarm water en voedende producten op oliebasis gebruiken.
Insmeren
Niet alleen gezichtsverzorging is belangrijk. Hydrateer na een bad of douche je hele lichaam met een heerlijk geurende bodylotion of bodybutter. Smeer zeker extra droge plekken zoals ellebogen, knieën, voeten en scheenbenen goed in!
Handverzorging
De kou buiten en de droogte door de verwarming binnenhuis zorgen ervoor, dat je handen snel droog worden. Om te voorkomen dat je last krijgt van kloofjes, is het belangrijk ze regelmatig goed in te smeren met hydraterende handcreme. Wanneer je handen erg ruw aanvoelen, kun je ze 's avonds insmeren met een vette creme, hierover katoenen handschoenen aantrekken en dit de hele nacht laten intrekken. Je zult zien dat ze 's ochtends weer heerlijk zacht zijn.

Verzorging van je lippen
Een van de eerste tekenen van veranderend weer: schrale lippen. Droge lucht en wind drogen ook je lippen uit, met als resultaat velletjes of pijnlijke, gebarsten lippen. Vaseline is een goede oplossing, maar je kunt meer doen. Velletjes kun je verwijderen door 's avonds tijdens het tandenpoetsen ook even over je lippen te gaan met je tandenborstel. Daarnaast kun je een lipscrub gebruiken, die je even laat intrekken en daarna goed afspoelt. Gebruik hierna een zachte lippenbalsem.
Drink!
Hydratatie van de huid is niet alleen belangrijk aan de buitenkant, maar ook van binnenuit. Daarom is het verstandig minimaal twee liter water per dag te drinken. Door het water gaat je huid afvalstoffen afvoeren, waardoor die minder dof wordt.
Met bovenstaande tips maak je jouw huid helemaal klaar voor het najaar!
Succes!
xox Nikkie
Wil je meer tips over beauty en make-up bekijk dan mijn Youtube Channel: NikkieTutorials