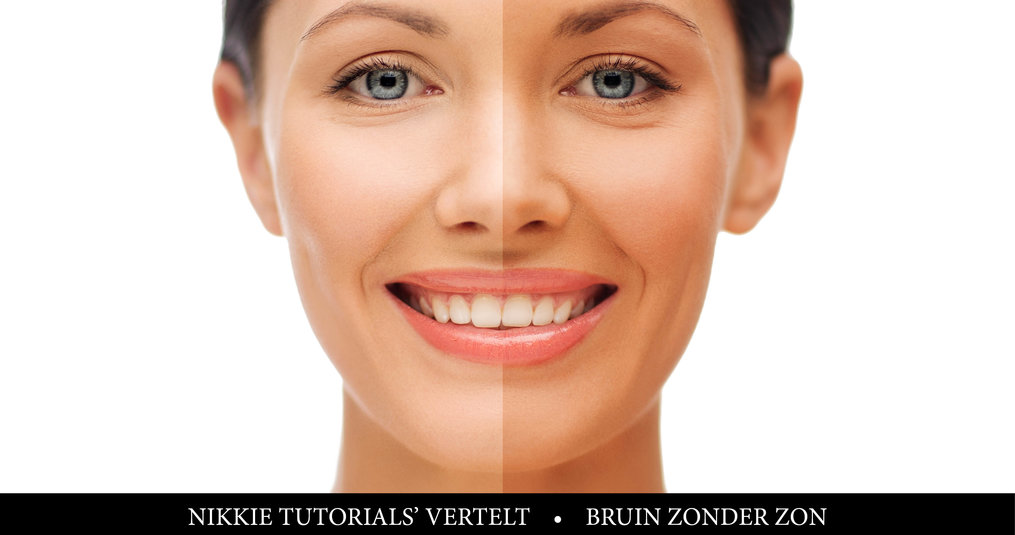 In dit blog vertelt NikkieTutorials hoe je bruin zonder zon wordt. We gaan aan de slag met zelfbruiners! Maar omdat je geen vervroegd Koningsdag-tintje wilt hebben, vertel ik je hoe je streep- en vlekvrij bruin kunt worden zonder zon.
Nikkie vertelt: bruin zonder zon en zonder strepen
Het is lente, maar wanneer ik naar buiten kijk heb ik toch nog geen lentegevoel. Deze week hebben we zelfs nog regen, hagel en onweer gehad. Lente in Nederland dus. Ik kan niet wachten op de zon om me te voorzien van vitamine D en een heerlijk kleurtje.
Omdat dat nog niet helemaal aan de orde is, vertel ik je hoe je bruin zonder zon kunt worden. We gaan aan de slag met zelfbruiners! Maar omdat je geen vervroegd Koningsdag-tintje wilt hebben, vertel ik je hoe je streep- en vlekvrij bruin kunt worden zonder zon.

Bruin zonder zon met zelfbruiners
Je kunt natuurlijk een abonnement op de zonnestudio nemen, maar ik geef de voorkeur aan het gebruik van tanning producten. De juiste producten geven een natuurlijk resultaat en zijn bovendien niet schadelijk voor je huid. Bruin zonder zon en zonder risico's dus.
Er zijn veel zelfbruiners op de markt om je te voorzien van een exotisch tintje. Sprays en lotions worden het meest gebruikt. Zelf ben ik groot fan van de tanning producten van Marc Inbane. Topkwaliteit, eenvoudig in gebruik en nog belangrijker: geen oranje tintje!
Het Bruin zonder zon-stappenplan
Welk product je ook kiest, je wilt bruin worden zonder zo én zonder strepen of vlekken. Hier een aantal tips:
Grondig scrubben: de basis voor een egaal kleurtje. Scrub 1 tot 2 keer per week onder de douche om dode huidcellen te verwijderen. De zelfbruiner pakt zo niet alleen beter en egaler, je kunt ook nog eens langer genieten van je kleurtje. Win-win-win.

Zorg voor een gehydrateerde huid, bijvoorbeeld door na het scrubben een goede bodylotion te gebruiken. Ook dan pakt een zelfbruiner beter.
Werk met een speciale tanning glove om de zelfbruiner gelijkmatig te verdelen en werk van boven naar onderen.
Volg deze Bruin zonder zon-tip op, was je handen en wacht op een heerlijk zomers kleurtje. Soms moet de kleur opbouwen en moet je deze stappen na een aantal dagen herhalen. Ga ook weer niet overboard, want dan krijg je al heel snel de gevreesde wortel teint.
Hoe word je bruin zonder zon?
Met andere woorden: hoe werken zelfbruinende producten? Deze producten bevatten een stofje genaamd dihydroxyaceton. Lastig uit te spreken, maar het is een kunstmatige suiker die de hoornlaag (=bovenste huidlaag) doet verkleuren. Dit actieve stofje is zo'n 6 uur actief, wat betekent dat je na 6 uur het definitieve resultaat ziet. Dit betekent ook dat je de eerste uren moet oppassen met bijvoorbeeld kleding, want de zelfbruiner is ook werkzaam op stoffen en kan dus afgeven.
Gezond bruin worden zonder zon
Ik noemde het net al kort, maar zelfbruiners zijn veilig. De werkzame stof (die met die lastige naam) is namelijk niet schadelijk voor de huid. Dit in tegenstelling tot bijvoorbeeld zonnen in de zon of onder een zonnebank. Bovendien bevatten veel zelfbruinende lotions extra stoffen om de huid gezond en gehydrateerd te houden. Mis je het zonnetje en een zomers kleurtje, ga voor je eigen veiligheid dan aan de slag met zelfbruiners om bruin zonder zon te worden. Andere opties verouderen je huid en vergroten de kans op huidkanker.

Tanning bij Het Cosmeticahuis
Het Cosmeticahuis heeft mijn favoriete tanning producten van onder ander Marc Inbane. Er zijn verschillende typen sprays en lotions en handschoenen en kwasten voor het aanbrengen. Twijfel je nog? Neem gerust contact op met Het Cosmeticahuis, ze adviseren je graag.
Succes en laten we hopen dat we snel kunnen genieten van het echte zonnetje!
xox Nikkie
Wil je meer tips over beauty en make-up bekijk dan mijn Youtube Channel: NikkieTutorials