SkinCeuticals Protect: de huid beschermen tegen de schadelijke invloed van de zon.
Een goede dagelijkse routine in de huidverzorging is belangrijk voor iedereen die huidschade wil voorkomen. Daarom heeft SkinCeuticals haar producten in drie verschillende categorieën verdeeld: de filosofie van SkinCeuticals in drie stappen. 1. Huidschade voorkomen (prevent) | 2. Bestaande huidproblemen behandelen (correct) | 3. De huid actief beschermen (protect).
In dit blog gaan we dieper in op stap 3: SkinCeuticals Protect en behandelen we de meest gestelde vragen over deze producten.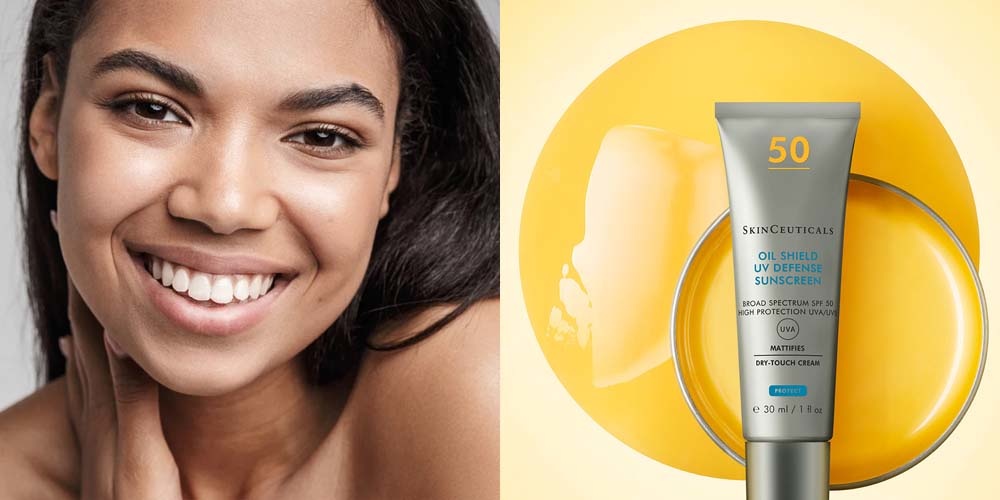 SkinCeuticals Protect
De huid beschermen tegen de schadelijke invloed van de zon gaat verder dan alleen maar verbranding door de zon voorkomen. UVA/UVB stralen versnellen immers het proces van huidveroudering en zijn tevens de oorzaak van hyperpigmentatie.
De SkinCeuticals-zonbeschermingen bieden breedspectrum UVA / UVB-bescherming. Geformuleerd met hoogwaardige actieve ingrediënten wordt de huid beschermd tegen het volledige spectrum van schadelijke UV-stralen. Ze beschermen dus tegen twee soorten zonnestraling die onze atmosfeer binnendringen en die schadelijk zijn voor de gezondheid van de huid.
UVA = Aging Straling
UVA-stralen zijn het hele jaar door aanwezig en zijn verantwoordelijk voor het verschijnen van rimpels, verkleuring en verlies van elasticiteit. Ze kunnen wolken, glas en de bovenste huidlagen binnendringen en het hele jaar door schade veroorzaken, zelfs op bewolkte dagen, tijdens het rijden of wanneer je binnenshuis bij een raam staat.
UVB = Burning straling
UVB-stralen zijn sterker gedurende de zomerperiode en veroorzaken zonnebrand en huidkanker. Ze penetreren de huid niet zo diep als UVA-stralen, maar zijn net zo gevaarlijk voor de gezondheid van de huid.
SkinCeuticals Protect producten
Advanced Brightening UV Defense Sunscreen SPF50

Een lichtgewicht formule waarin breedspectrum UV-bescherming wordt gecombineerd met een krachtige mix van pigmentatie corrigerende ingrediënten voor een heldere, meer effen teint. 1% tranexaminezuur en 2% niacinamide ondersteunen het verminderen van huidige pigmentatie terwijl de breedspectrum UV-filters zorgen voor het tegengaan van toekomstige schade. Geformuleerd met mica, zorgt deze dagelijkse zonbescherming voor een direct verhelderde teint.

Geschikt voor de normale en gemengde huid.

In te zetten bij hyperpigmentatie.

Brightening UV Defense SPF30

Brightening UV Defense SPF 30 biedt een hoge breedspectrum hydraterende bescherming tegen fotoveroudering. Deze zonnebrandcrème voor dagelijks gebruik matigt de huidreactie op UV-straling door overmatig veel melanine te gaan produceren. Het HyperBright Complex helpt bij het verminderen van overmatige pigmentatie om het ontstaan van pigmentvlekken te voorkomen en bestaande pigmentatie te verminderen.

Geschikt voor de normale en gemengde huid.

In te zetten bij hyperpigmentatie.

Mineral Eye UV Defense SPF30

Deze, door oogartsen geteste, zonbescherming voor de oogzone levert een nieuwe standaard in oogverzorging en verdedigt, verbetert en optimaliseert het gehele ooggebied, inclusief het ooglid. Speciaal samengesteld voor de unieke structuur van de dunnere en meer gevoelige huid rond het oog, biedt Mineral Eye UV Defense een breedspectrum SPF 30-bescherming zonder migratie of irritatie van de ogen. Een universele tint verbetert de huidtint terwijl ceramiden voeden, waardoor een gladde, optimale basis voor make-up wordt gecreëerd.

Geschikt voor de normale, gemende en gevoelige huid.

In te zetten bij rosacea en reactieve huidcondities.

Mineral Radiance UV Defense SPF50

Mineral Radiance UV Defense SPF 50 is een vederlichte vloeistof met 100% minerale filters voor een effectieve breedspectrum UVA/UVB-bescherming en is tot max. 40 minuten waterbestendig. Deze zonnebrandcrème met titaniumdioxide en een hoge beschermingsfactor bevat tevens artemia salina, een planktonextract dat er bekend om staat dat het de weerstand van de huid tegen UV- en warmte-geïnduceerde stress verhoogt en met transparante kleurbolletjes die zich aanpassen aan de meeste huidskleuren voor een egale, stralende finish.

Geschikt voor de normale, gemende en gevoelige huid.

In te zetten bij rosacea en reactieve huidcondities.

Oil Shield UV Defense SPF50

Een lichte formule die breedspectrum zonbescherming biedt en tegelijkertijd matterende eigenschappen heeft en overtollig talg aanpakt. Deze onzichtbare formule biedt optimale bescherming met een dry-touch finish.

Geschikt voor de vette en gemengde huid.

In te zetten bij acne.

Ultra Facial Defense SPF50

Ultra Facial Defense SPF 50 beschermt de huid tegen de UV-straling die erom bekend staat dat het vroegtijdige huidveroudering veroorzaakt. Deze zonnebrandcrème met hoge beschermingsfactor met zeer geavanceerde UV-filters voorkomt door UV-straling veroorzaakte collageenafbraak.

Geschikt voor de normale, gemengde en droge huid.

In te zetten bij huidveroudering en dehydratatie.

FAQ - de meest gestelde vragen over zonbescherming
Welke UV-beschermingsfilter kies ik?
Minerale filter
Ook bekend als fysische, ligt op de huid en blokkeert UV-stralen als een schild. Titaandioxide is een natuurlijk mineraalfilter dat te vinden is in al onze 100% minerale zonnefilters. Het biedt een zachte, chemisch-vrije optie voor alle huidtypes.
Organische filter
Ook wel bekend als chemische filter, deze penetreert de huid en absorbeert de UV-stralen als het ware een spons. Onze chemische filters bieden ook andere voordelen zoals waterresistentie en snel opnemende opname voor alle huidtypen, met name donkere teints en actieve levensstijlen.
Mix: mineraal + organisch
Onze meest multi-taskende formule hebben de UV-bescherming van beide types filters en bieden daarmee de voordelen van hydratatie, waterresistentie en exceptionele draagbaarheid voor dagelijks gebruik.
Hoeveel zonbescherming moet ik aanbrengen op mijn gezicht en lichaam?
Wanneer het op de juiste manier en gronding wordt toegepast, is aangetoond dat breedspectrum zonbescherming beschermt tegen vroegtijdige huidveroudering en huidkanker. Studies hebben echter aangetoond dat slechts 25-50% van de gebruikers de door de dermatoloog aanbevolen hoeveelheid zonnebrandcrème aanbrengt om de huid goed te beschermen tegen schade door de zon.
Om voldoende beschermd te blijven, is het belangrijk dat alle blootgestelde delen van de huid worden bedekt door een royale laag zonbescherming. Als algemene vuistregel geldt dat een hoeveelheid van een 50-ct muntstuk op het gezicht moet worden aangebracht en dat er een hoeveelheid van een shotglaasje op het lichaam moet worden aangebracht. De hoeveelheid kan enigszins variëren, afhankelijk van het gewicht of de lengte van een persoon.
Hoe vaak moet ik zonbescherming aanbrengen?
Zonbescherming moet dagelijks worden aangebracht, ongeacht het weer. SkinCeuticals-zonbeschermingen zijn zo samengesteld dat ze het hele jaar door een breedspectrum UVA / UVB-bescherming bieden en ideaal zijn voor dagelijks gebruik. We raden aan om de zonbescherming om de twee uur opnieuw aan te brengen. 
Breng ik mijn zonbescherming aan voor of na een moisturizer?
Zonbescherming dient altijd als laatste te worden aangebracht, omdat het de eerste laag is die wordt blootgesteld aan de zon. De algemene regel voor het aanbrengen van huidverzorgingsproducten is van toepassing het lichtste product eerst en dan omhoog werken tot de meest dikke formule. Wanneer je gebruik maakt van een moisturizer neem dan de tijd om de moisturizer volledig te laten opnemen door de huid en volg dan met het aanbrengen van de zonbeschermingen. Voor optimaal resultaat, neem dan de tijd om de zonbescherming volledig op te laten drogen voor het aanbrengen van make-up.