Cenzaa RYJVK Eye Experience Set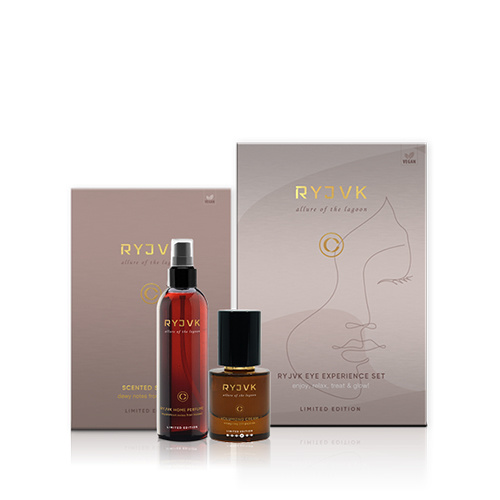 Cenzaa RYJVK Eye Experience Set
Enjoy, relax, treat & glow!
Discover the bestsellers from the RYJVK limited edition collection with the RYJVK Eye Experience Set. Treat yourself to this invigorating beauty routine from Iceland wherever you are. Unwind with the mysterious notes of the RYJVK Home Perfume, enjoy the scent of the RYJVK Scented Sachet and rejuvenate tired eyes with the revolutionary Brightening Eye. This set offers the perfect mix; enjoy, relax, treat & glow
Contents Cenzaa RYJVK Eye Experience Set
RYJVK Brightening Eye 15ml
Brightening Eye is a revolutionary eye contour cream that sublimely brightens the skin. It makes tired eyes sparkle and camouflages bags, dark circles and lines. It evens out the skin, fills in wrinkles and gives an immediate tightening and youthful effect.
RYJVK Home Perfume 100ml
Mysterious Notes of Iceland is an interior spray with a spicy perfume full of depth that invites you to a moment of relaxation and tranquillity with its fresh, but dark tones. The softwood tones come together in perfect harmony with patchouli and amber. With this interior spray, you create a unique fragrance experience with a surprisingly lasting memory.
RYJVK Scented Sachet 1st.
Woody notes from Reykjavik bring relaxation to any room. The soft floral and spicy notes bring peace and space. The heart of the perfume embraces the base and top notes, where vanilla and patchouli meet perfectly with sage, cardamom and musk. Relax and enjoy this sensational yet subtle fragrance experience.
The advantages of the RYJVK Eye Experience Set:
This set lets you relax with the mysterious notes of the RYJVK Home Per-fume, lets you enjoy the scent of the RYJVK Scented Sachet and make tired eyes shine again with the revolutionary Brightening Eye.
Sensational scents, relaxation and results come together in this Eye Experience set. enjoy, relax, treat & glow!
A luxurious set that offers a radiant and clear look and is enriched with deliciously scented RYJVK specials.
The Eye Experience set is a beautiful gift set.
This product is 100% vegan & cruelty-free.
Important ingredients:
MineralsTitanium Dioxide AntioxidantsNiacinamide
Caffeine Botanics Fraxinus Excelsior
Bark Extract VitaminsB5, B2 & C
Skin type:
young and normal skin
Product features
Brand:

Cenzaa

Gender:

Women

, Men

, Teenager

Packaging:

Gift set

Product characteristic:

Cruelty free

, Vegan

Product line:

RYJVK

Skin type:

Normal skin

, Young skin

Suitable for:

Eyes