Dermalogica Skin care set aged skin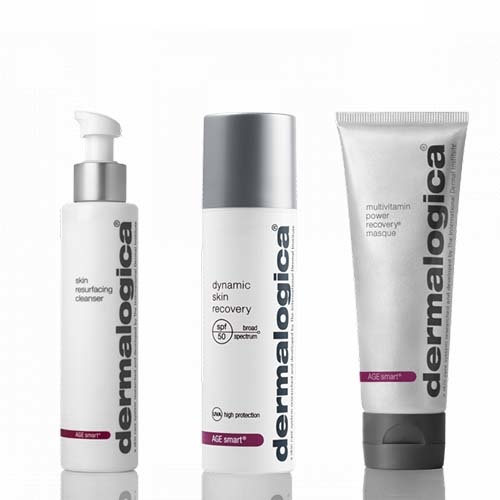 Dermalogica Skin care set aged skin
contains the products you need for your daily skin care routine.
Content
The Dermalogica Skin Care Set aged skin contains the following products:
Skin Resurfacing Cleanser 150ml
Dynamic Skin Recovery SPF50 50ml
MultiVitamin Power Recovery Masque 75ml
An exfoliating cleanser with Lactic Acid that improves the skin by removing dulling dead skin cells and stimulating cell renewal.
A moisturizer that provides intensive hydration and protects the skin against internal and external influences that play a role in skin aging.
An intensive mask containing high concentrations of Vitamins A, C, E and F to repair the skin from damage and improve the skin barrier.
Usage
Step 1: Do the Dermalogica double cleanse starting with the PreCleanse, place a small amount in damp hands and spread over the face and neck. Can be used once or twice a day. Massage in with light movements for at least 30 seconds, avoiding the eyes. Follow up with the Dynamic Skin Recovery SPF50 when used in the morning.
Step 2: Apply a generous amount to clean skin. Leave it on for 10 to 15 minutes and then remove thoroughly with lukewarm/warm water. Use once a week or as needed. Continue to apply the Dynamic Skin Recovery SPF50.
Step 3: nourish your face with the Dynamic Skin Recovery. Apply the cream in circular motions to a cleansed face and neck. Preferably use the moisturizer 30 minutes before sun exposure.