Dermalogica Skin care set normal skin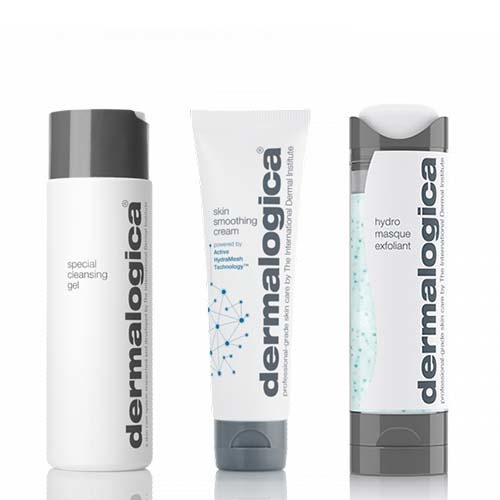 Dermalogica Skin care set normal skin
contains the products you need for your daily skin care routine.
Content
The Dermalogica Skin Care Set Normal Skin contains the following products:
Special Cleansing Gel 250ml
Skin Smoothing Cream 50ml
Hydro Masque Exfoliant 50ml
Special Cleansing Gel is a soap-free, foaming gel that removes dirt and make-up from the skin without stripping the skin barrier. Lemongrass and Lavender soothe the skin while Quillaja Saponaria gently foams away the dirt from the skin. Free from synthetic fragrances and dyes.
Skin Smoothing Cream helps to reduce moisture loss and provides the skin with continuous hydration for 48 hours and protects the skin's own microbiome.
This 2-fold formula gently removes dead skin cells from the skin while stimulating cell renewal of the skin, which ensures that the moisturizing ingredients can more easily penetrate the skin for optimal effect.
Usage
Step 1: cleanse your face with the Special Cleansing Gel. You can use this product every day, both in the morning and in the evening. Wet your face with warm water. Apply the creamy emulsion to your face and massage it in gently with upward movements. Remove the cleaner using facial sponges and/or water.
Step 2: Exfoliate your face by applying the Hydro Masque Exfoliant. A 5-minute 2-in-1 face mask that works synergistically on exfoliation and hydration
Step 3: nourish your face with the moisturizing Skin Smoothing Cream. Apply the cream with circular movements on a cleansed face and neck. Use the moisturizer twice a day: in the morning and in the evening. For an extra hydration boost, spray face before use with Multi-Active Toner. Mix with a booster from Dermalogica for an even more intensive result.