Dermalogica Skin care set sensitive skin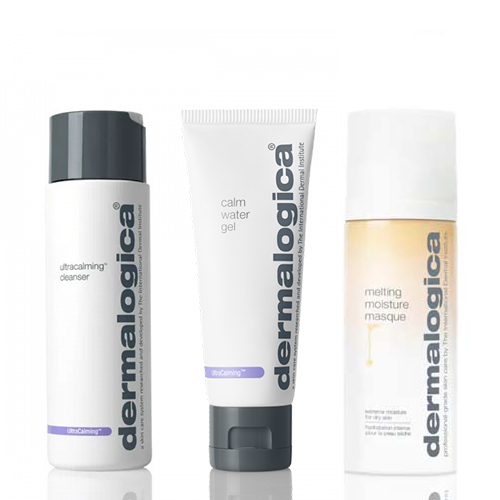 Dermalogica Skin care set sensitive skin
contains the products you need for your daily skin care routine.
Content
The Dermalogica Skin Care Set normal skin contains the following products:
UltraCalming Cleanser 250ml
Calm Water Gel 50ml
Melting Moisture Masque 50ml
Dermalogica UltraCalming Cleanser
UltraCalming Cleanser is an extremely gentle gel/cream cleanser that cleanses the skin in a very mild way.
A lightweight water-gel moisturizer that transforms on the skin into a nourishing fluid, creating a weightless barrier against environmental factors.
Dermalogica Melting Moisture Masque
The Melting Moisture Masque is a leave on mask that provides an intensely comfortable melting sensation. This mask protects the skin from damaging environmental factors, restores and strengthens the skin barrier and provides a healthy glow!
Usage
Step 1: cleanse your face with the UltraCalming Cleanser. You can use this product every day, both in the morning and in the evening. Wet your face and hands with warm water. Apply the emulsion to your face and massage it in gently with upward movements. Remove the cleaner using facial sponges and/or water. Tip: Continue with the UltraCalming Mist and Barrier Repair.
Step 2: nourish your face with the moisturizing Calm Water Gel. Dispense a small amount onto the palm of your hand and rub your hands together to activate the gel. Gently pat onto face and neck. Use twice a day for continuous relief.
Step 3: once or twice a week, apply a small amount of the Melting Moisture Masque (about a pea-sized amount) in your hand and massage it onto your face and neck. Let sit and remove any excess with a tissue if needed.