Dermalogica Skincare set oily skin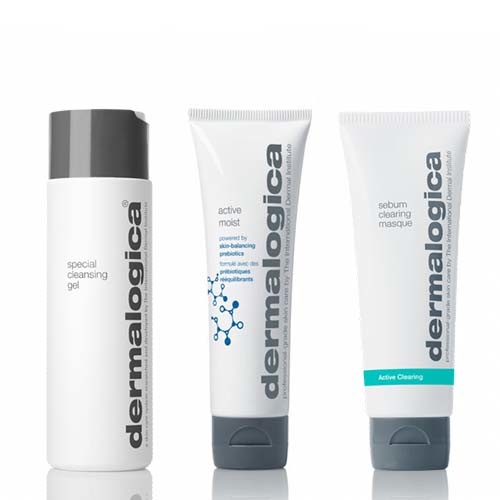 Dermalogica Skincare set oily skin
contains the products you need for your daily skin care routine.
Content
The Dermalogica Skin Care Set Oily Skin contains the following products:
Special Cleansing Gel 250ml
Active Moist 50ml
Sebum Clearing Masque 75ml
Special Cleansing Gel is a soap-free, foaming gel that removes dirt and make-up from the skin without stripping the skin barrier. Lemongrass and Lavender soothe the skin while Quillaja Saponaria gently foams away the dirt from the skin. Free from synthetic fragrances and dyes.
Active Moist is an oil-free, lightweight moisturizer and is suitable for combination to oily skin. The easy-to-apply emulsion contains Silk Amino Acids and various plant extracts such as Lemon and Cucumber that moisturize the skin and refine the pores.
Sebum Clearing Masque is a refreshing mask that purifies blemished skin and refines the skin texture thanks to the presence of Kaolin Clay and Bentonite. This purifying mask has a double effect: it absorbs the excess skin fat present on the skin's surface and regulates sebum production at the source.
Usage
Step 1: cleanse your face with the Special Cleansing Gel. You can use this product every day, both in the morning and in the evening. Wet your face with warm water. Apply the creamy emulsion to your face and massage it in gently with upward movements. Remove the cleaner using facial sponges and/or water.
Step 2: Apply a thin layer to the face and neck (avoiding the eye area). Use this mask 2 to 3 times a week. May also only be used on the t-zone. Leave the product on for 10 minutes and remove thoroughly with lukewarm/warm water.
Step 3: Apply the moisturizer to the face and neck with light upward strokes. For best results, apply the moisturizer after the recommended Dermalogica Toner. For extra results, this product can also be mixed with a Dermalogica Concentrated Booster. Prepares the skin with the Multi-Active Toner to increase absorbency.