IK Skin Perfection Silky Organic Recover Box (highly sensitive skin)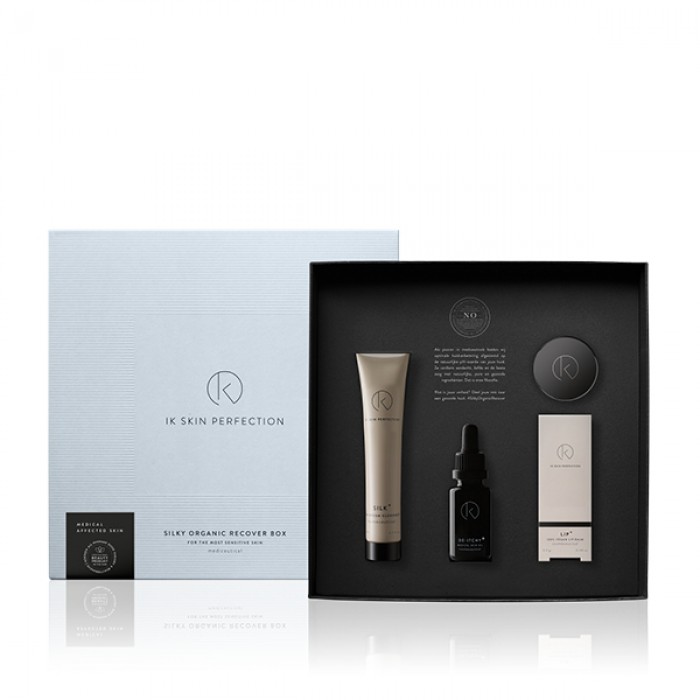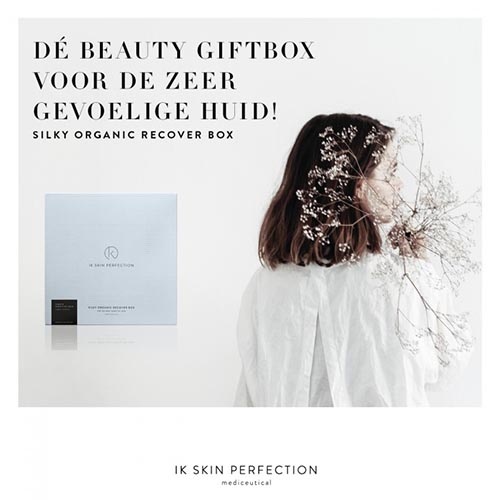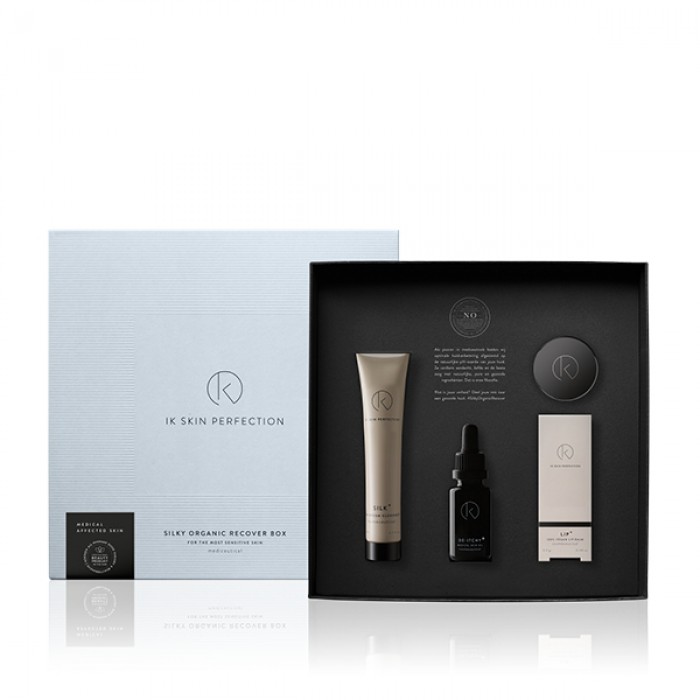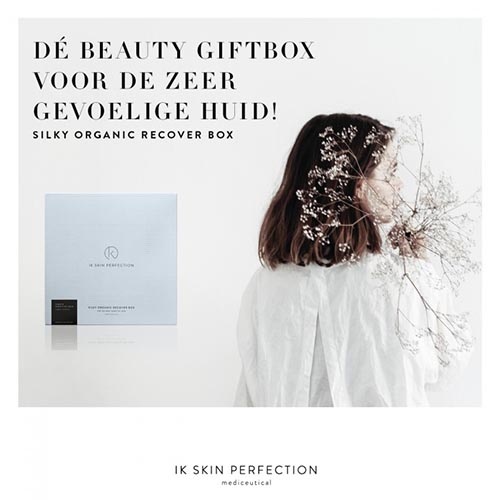 Silky Organic Recover Box (highly sensitive skin)
Do you know someone in your area or are you someone with very sensitive skin? Give yourself - or someone else - a special gift. The products in this Silky Organic Recover Box (highly Sensitive Skin) can be given as a safe and carefree gift and are suitable for women and men with very sensitive skin.
The Silky Organic Recover Box is a beautifully designed gift box with honest and natural beauty products that can also be used safely for the most heavily stressed skin. Give yourself - or that other person - a moment of happiness!
The Silky Organic Recover Box was named Professional Beauty Product of the Year 2019 by the professional jury in April 2019; the award in the professional industry for cosmetic brands.
The Silky Organic Recover Box contains:
The benefits of the Silky Organic Recover Box:
Suitable for women and men whose skin has been damaged by chemotherapy, radiation or intensive medication
Suitable for people with very sensitive skin
Can be given as a safe and carefree gift
How to use the Silky Organic Recover Box:
Avoid soaps, cleansers and cosmetics with irritating ingredients. Pat the skin dry after a shower or bath instead of rubbing it dry. If you lose your eyelashes or eyebrows, be careful when using products around the eye contour. Do you suffer from skin flakes? Then don't exfoliate your skin, but consult your IK Medical Skincare Specialist about what you can do best. Taking a bath makes the skin soft and dries out the skin. This can cause additional skin irritation. It is better to take a short shower then.
FACE: Wash your skin with lukewarm water and with a healthy and mild cleanser such as the SILK+. When irradiating, make sure that the radiation lines drawn on the skin are not lost.
HANDS: You can make dry hands more supple by using a rich cream or body butter, such as the BUTTERLY CREAM from the IK Blooom Collection.
LIPS: Lips can sometimes feel sore and chapped due to intensive medical procedures. Lip balm LIP+ contains Shea butter and provides immediate recovery and comfort.
FACE & BODY: Skin undergoing intensive medical treatments has difficulty retaining moisture. Therefore, make sure you have a good pH and moisturizing cream, such as RECOVER+ or oil, such as DE-ITCHY+ and apply it 1 to 2 times a day.
NAILS: Certain chemos can discolour your nails, make them brittle and dry or soft and limp. To protect your nails you can use nail polish without formaldehyde, such as the IK Blooom Nail Blush.
Skin type:
Sensitive / Stressed Skin, Dry Skin
Product features
Brand:

IK Skin Perfection

Care objective:

Calmed skin

, Improve hydration

, Reducing skin irritation

Gender:

Women

, Men

, Teenager

Packaging:

Skincare set

, Gift set

Product characteristic:

Suitable for non-hormone-sensitive cancer

Product line:

Medikal

Skin problem:

Skin irritation

Skin type:

Sensitive skin

Suitable for:

Face