RevitalTrax Anti-Aging Grapefruit Face Scrub 100ml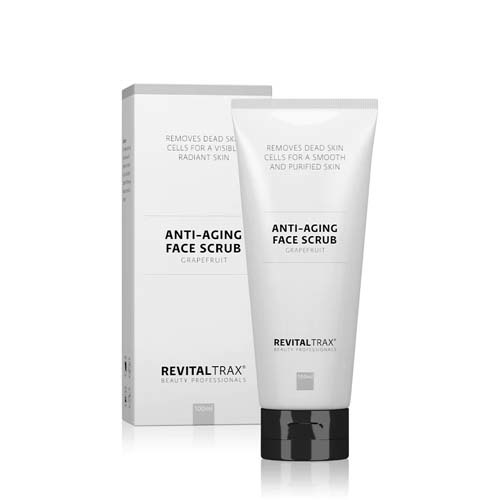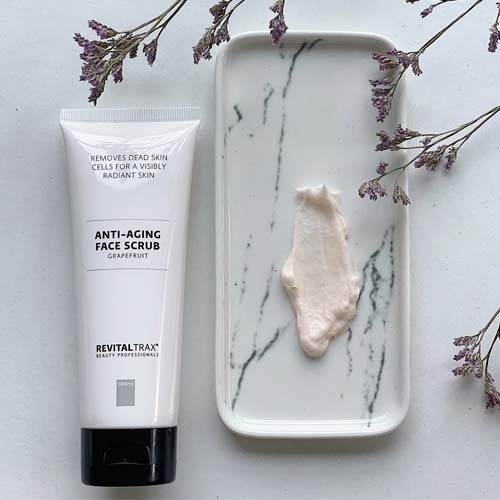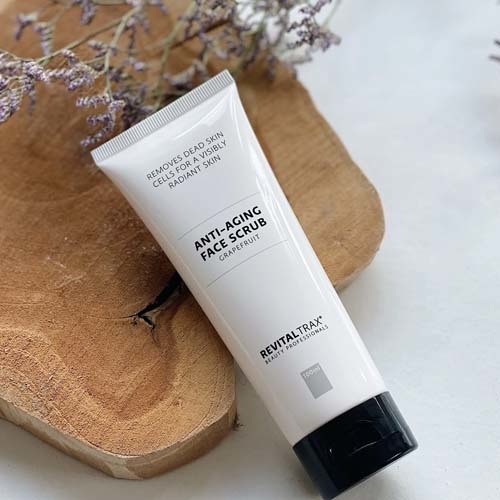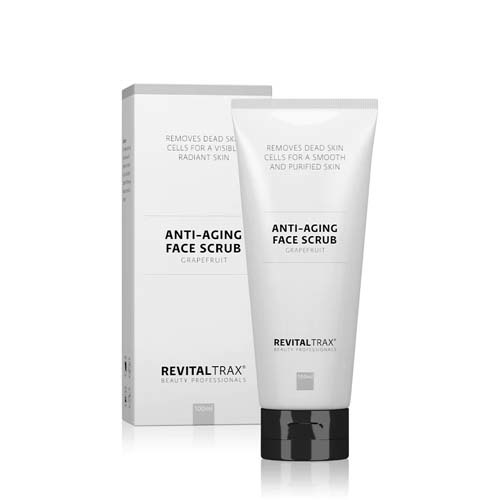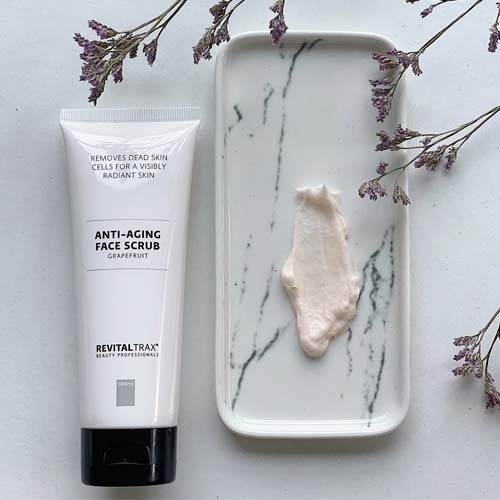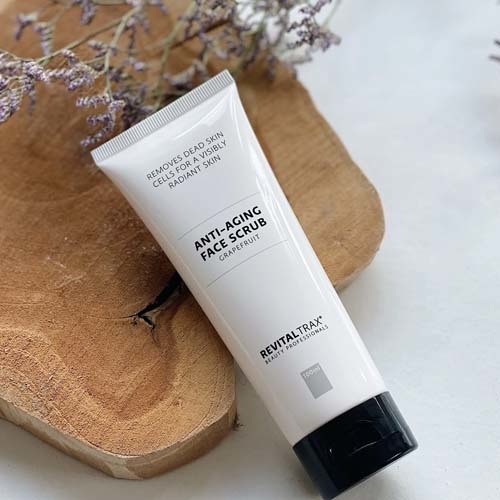 Anti-Aging Grapefruit Face Scrub
The scrub gently removes dead skin cells and dirt thanks to the very fine cellulose granules. Cellulose is the building material of the cell walls of plants and materials of plant origin. The skin will feel purified and soft after using the face scrub.

Grapefruit is an essential ingredient if you desire a glowing and younger skin. It is packed with vitamin A and this is a great anti-aging ingredient. It firms the skin and helps reduce fine lines and wrinkles by boosting collagen production. It also has an anti-inflammatory effect so is very suitable for impure skin.

The vitamin C content in grapefruit acts as a gentle natural exfoliant while lightening pigmentation, reducing redness and intensely nourishing the skin. Another property of grapefruit is that it makes the skin less oily and reduces pores.
How do I use the Anti-Aging Grapefruit Face Scrub?
For best results, use the face scrub once a week. Suitable for men & women.
First clean your face with the Skin Cleanser.

Rinse off the skin cleanser.
Use a small amount of the face scrub and apply it to your still damp face. Of course you can also use it in the shower.
Massage the scrub onto the face for one minute in circular motions.
Rinse well and gently pat the face dry with a clean towel.
Then use the moisturizing lotion, your favorite serum and a day or night cream.
---
Ingredients
Aqua, Prunus Amygdalus Dulcis (Sweet Almond) Oil, Cellulose, Glyceryl, Cetearyl Olivate, Sorbitan Olivate, Cetearyl Alcohol, Glyceryl Stearate, Citrus Paradisioil(Grapefruit) Oil, Xanthan Gum, Hydroxyethylcellulose, Citrus Paradisi (Grapefruit) Fruit Extract, Phenylhexylglycerin
---

Storage advice
Store at room temperature (15-25°C). Keep out of reach of young children.

Important information
If you are allergic (hypersensitive) to one of the substances in this formula, we recommend that you halve or stop the use. Consult a doctor if desired.

General information
A healthy lifestyle and drinking 1.5 to 2 liters of water per day is important for optimal results.
Product features
Brand:

Revitaltrax

Care objective:

Purifies the skin

, Radiant skin

, Redness reduction

, Reduction of coarse pores

, Reduction of pigmentation and age spots

, Reduction of wrinkles & fine lines

, Skin Firming

, Smooth skin

Contents:

100 ml

Gender:

Women

, Men

Packaging:

Full Size

Product Type:

Peeling

Product characteristic:

Cruelty free

, Parabens free

, Silicone free

, Sulfate free

, Vegan

Skin problem:

Pigmentation

, Red skin

, Skin Aging

Skin type:

Aged skin

, Blemished skin

Suitable for:

Face

Texture:

Cream with fine grain