RevitalTrax Hyaluronic SPF30 Day Cream 60ml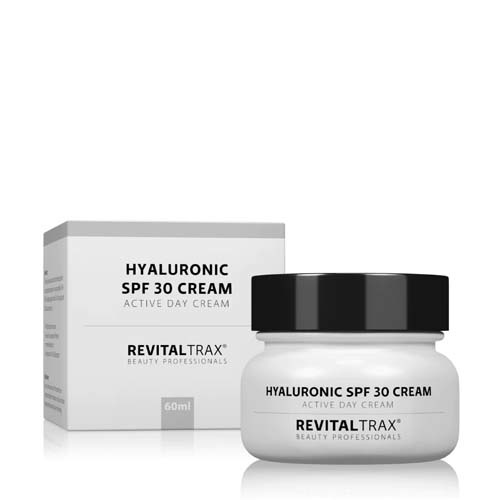 Hyaluronic SPF30 Day Cream
Improved formula! The day cream with SPF30 and hyaluronic acid nourishes and moisturizes the skin and protects against dry and rough skin. The SPF30 protects your skin from harmful UVA and UVB rays from the sun.

UVA rays penetrate deeper into the skin and are responsible for, among other things, wrinkles and skin spots on our face. It causes, among other things, skin aging. The A in UVA therefore stands for Aging.

UVB rays penetrate less deeply into the skin and are responsible for tanning and/or burning the skin. The B in UVB stands for Burn.
Firming and moisturizing
Reduces fine lines
Improves skin elasticity
Sun protection UVA + UVB
How do I use the Hyaluronic SPF30 Day Cream?
Use the RevitalTrax skin cleanser, moisturizing lotion, your favorite serum and the eye cream in advance.

Finally, apply an appropriate amount of hyaluronic SPF30 day cream to fingertips and gently massage onto face and neck until absorbed.
You can then apply any make-up.
For best results, use the moisturizing cream twice a day.
More about Hyaloronic Acid
Hyaluronic acid is one of the body's own glucose building blocks. These building blocks are necessary to keep the skin supple and elastic. As we age, hyaluronic acid in the body decreases, causing the skin to lose its elasticity and firmness. Hyaluronic acid is able to hold up to 1000 times its own weight in water and supports the recovery of dehydrated skin, but it is recommended for all skin types. No other biologic can hold as much water as hyaluronic acid, resulting in increased smoothness, softening, reduction of wrinkles and a healthy skin barrier. Skin with a healthy skin barrier feels plumper and looks younger.
---
Ingredients

Aqua, Polyglycerin-10, Prunus Amygdalus Dulcis (Sweet Almond) Oil, Squalane, Aloe Barbadensis Leaf Extract, Ethylhexyl Methoxycinnamate, Portulaca Oleracea Extract, Ficus Carica (Fig) Fruit Extract, Sodium Hyaluronate, Cetearyl Olivate, Sorbitan Olivate, Niacinamide, Zinc Oxide, Titanium Dioxide, Acacia Senegal Gum, Xanthan Gum, Creatine, Pentylene Glycol, Butylene Glycol, Hydroxyphenyl Propamidobenzoic Acid, Ascorbyl Palmitate, Phenoxyethanol, Ethylhexylglycerin
---
Storage advice
Keep out of reach of young children.

Important information
If you are allergic (hypersensitive) to any of the substances in this formula, we recommend that you stop using it. Consult a doctor if desired.

General information
A healthy lifestyle and drinking 1.5 to 2 liters of water per day contributes to healthy skin.
Product features
Brand:

Revitaltrax

Care objective:

Improve hydration

, Improve skin elasticity

, Reduction of UV damage

, Reduction of wrinkles & fine lines

, Skin Firming

Contents:

60 ml

Gender:

Women

, Men

, Teenager

Packaging:

Full Size

Product Type:

Day cream

, Sunscreen

Product characteristic:

Cruelty free

, Parabens free

, Silicone free

, Sulfate free

, Vegan

Protection Factor:

SPF 30

Skin type:

All Skin types

Suitable for:

Face

Texture:

Cream