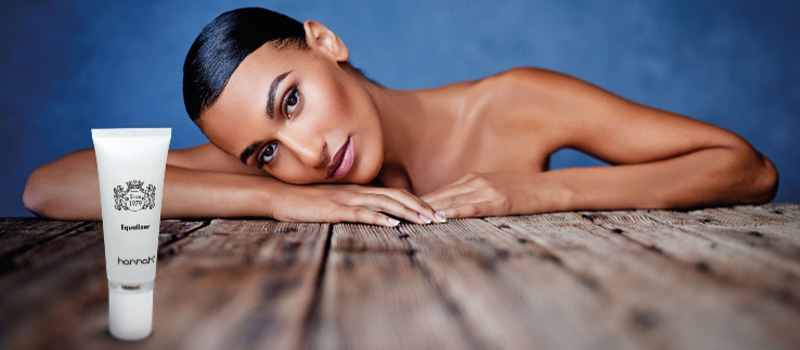 New: hannah Equalizer
The new multi-talent in skin improvement. With the arrival of the Equalizer, Dutch cosmetics brand hannah has developed a unique cream with the latest ingredients that quickly and efficiently provide long-lasting smoothing results.
Find the balance in your skin.
The hannah Equalizer is the solution for your dark spots. The cream contains the latest high-tech ingredients that will even out your skin quickly, soften existing hyperpigmentation, and prevent new pigmentation from forming. hannah Equalizer gives the skin a calm overall appearance, as it also reduces fine lines and wrinkles and works ideally on impurities and their consequences.
Antioxidant Boost
The hannah Equalizer is formulated with high concentrations of active ingredients and antioxidants, including Astaxanthin and Bakuchiol. These counteract the formation of free radicals and have moisturizing solid properties for radiant, smooth skin. This optimizes the hannah Equalizer to rebalance the skin's natural resistance.
The added Astaxanthin is among the most powerful and versatile antioxidants nature offers and works effectively against free radicals. The color of the hannah Equalizer is determined by this unique ingredient that naturally has a red/orange color. This gives the skin an even complexion making the overall appearance more rested. This makes daily camouflaging of pigmentation spots a thing of the past.
Vegetable retinol: Bakuchiol
A plant-based ingredient obtained from the leaves and seeds of the Psoralea Corylifolia plant. It offers the same skin benefits as retinol but without the bothersome side effects. A powerful antioxidant that visibly reduces skin discoloration caused by sun damage and external influences and counteracts the formation of free radicals.
How to use hannah Equalizer
The better the preparation, the more effective you can expect from treatment with this product. Therefore, applying the hannah Equalizer on cleansed, toned, and possibly stimulated skin is important. Then, use the cream directly on the skin and massage it until the skin fully absorbs the cream. Finally, finish your skincare routine with an appropriate cream from the hannah Red Line.
Boost your skincare
The hannah Equalizer can be used in maintenance in your daily skincare routine but can also be combined as an extra boost with one of the hannah serums. First, apply a thin layer of the hannah serum, followed by the hannah Equalizer.
In case of pigmentation, choose the hannah Opulence Serum. For wrinkle formation, we recommend the hannah Asolution Serum. Do you suffer from impurities? Then go for the hannah BeYOUty Serum.
Do you have any questions or more information?
Do you have questions about the latest hannah product, or are you looking for more information? If so, please get in touch with us at: info@hetcosmeticahuis.nl. Our hannah skin coaches will be happy to help you.