Schrijf je in voor onze nieuwsbrief
Take care of your skin after sunbathing with a cooling aftersun cream.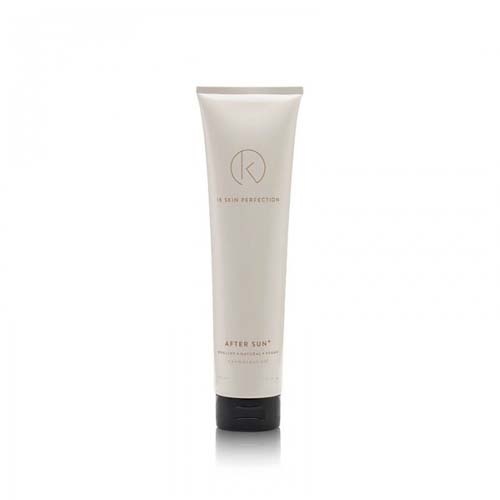 IK Skin Perfection AFTERSUN 150ml
IK Skin Perfection AFTERSUN The AFTER SUN balm soothes heated skin, nourishes, makes it supple and moisturizes intensively. Restores the skin after sunbathing from harmful influences of the sun. The AFTER SUN provides a silky soft feel without leaving a greasy layer. The formula is 100% natural, vegan and microplastic free. AFTER SUN is dermatologically tested, perfume-free and suitable for all skin types. The formula is very suitable for even the most sensitive skin and for children. AFTER SUN protects against UV-induced free radicals and premature skin aging. The advantages of the AFTERSUN Provides instant relief from sunburnt skin Effectively calming and soothing Will be recorded quickly Does not stick Protects against free radicals and premature skin aging How to use the AFTERSUN After sun exposure, apply to the skin and distribute evenly. In case of burns, let the skin cool down for a while and then apply the AFTERSUN in a thin layer. Preferably apply a thin layer of AFTERSUN to the skin every few hours for an extra soothing and restorative effect. Skin type Suitable for all skin types.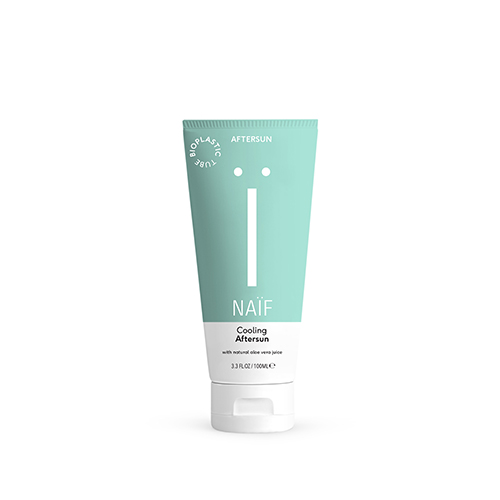 Naïf Cooling After Sun Gel 100ml
Naïf Cooling After Sun Gel Naïf Cooling After Sun Gel soothes, moisturizes and repairs the skin after a sunny day. Because, the sun is lovely. But where you use a sunscreen as a precaution, you use an aftersun afterwards. Aloe Vera provides cooling and recovery, glycerine for hydration. This keeps even the most sensitive skin soft and supple. Exactly what the skin needs after exposure to UV rays. Also nice: absorbs quickly and does not leave a sticky layer. By the way, did you know that you can also use the After Sun Gel if you are not burned? Pure for hydration. If your skin has been through a lot, or has been burned, it is better to go for a gel than, for example, an oil-based product. Because this way the heat can leave the skin better. The benefits of Naïf Cooling After Sun Gel Natural ingredients Soothes, hydrates and heals the skin Based on Aloe Vera juice and vegetable Glycerine For the whole family Suitable for face & body Absorbs quickly and feels airy Without microplastics, mineral oils or silicones For all skin types, including sensitive skin With soft allergen-free Naïf fragrance Developed and produced in the Netherlands 100% vegan and ocean friendly Dermatologically tested In tube of bioplastic based on sugar cane How to use Naïf Cooling After Sun Gel Apply liberally after sun exposure. Especially in places that have had a lot of sun. Repeat if the skin still feels dry. Tip: Keep the aftersun in the fridge for extra cooling. Ingredients Aqua/Water, Glycerin, Methylpropanediol, Cetearyl Alcohol, Glyceryl Stereate Citrate, Cetyl Alcohol, Parfum/Fragrance, Allantoin, Aloe Barbadenis Gel/Aloe Barbadensis Leaf Juice Powder, Xanthan Gum, Caprylyl Glycol, Phenylpropanol, Lecithin, Lactic Acid, Sodium Hydroxide.
Why apply an aftersun cream?
Aftersun is a cooling and moisturizing cream or gel used after you've been out in the sun. Aftersun relieves sunburn and helps soothe dry, red, and sensitive skin. It also moisturizes the skin, keeping your skin supple.
How long should you apply sunscreen?
You can use Aftersun every time you are in the sun. Our advice: apply it to your skin before you go to sleep. This cools the skin, and the cream can, while you sleep, soak into the skin.