Dermalogica Clear Start Miniature Duo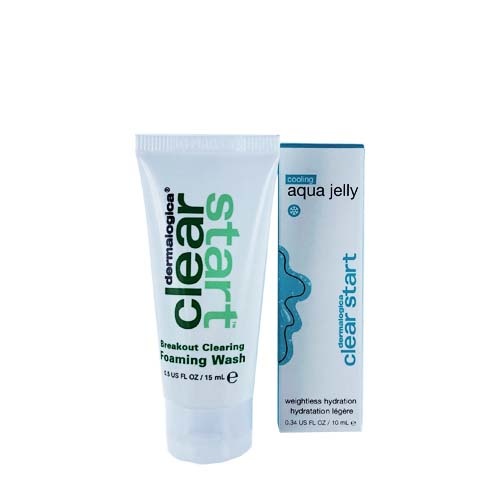 Clear Start Miniature Duo
This miniature duo set from Dermalogica is especially for young skin to keep it healthy on a daily basis. The Clear Start products are specially designed for young skin that is sensitive to impurities such as blackheads, pimples and excess sebum. The miniature duo set contains:
Clear Start Breakout Clearing Foaming Wash 15ml
Clear Start Aqua Jelly 10ml
Breakout Clearing Foaming Wash
Breakout Clearing Foaming Wash is a deeply purifying facial cleanser that counteracts impurities. Dead skin cells, dirt and excess sebum that clog pores and cause pimples are deeply cleansed for clear skin.
Aqua Jelly
Cooling Aqua Jelly is a skin-refining, lightweight, moisturizing gel moisturizer for oily skin that gives a healthy glow, without leaving the skin shiny. This moisturizer for young skin helps to reduce excess oil and refines the skin texture. Moisturizes and cools the skin for a feeling of freshness and soothes and softens the skin while the skin brightens.
More Dermalogica Clear Start: