Extenso Skin care set dry skin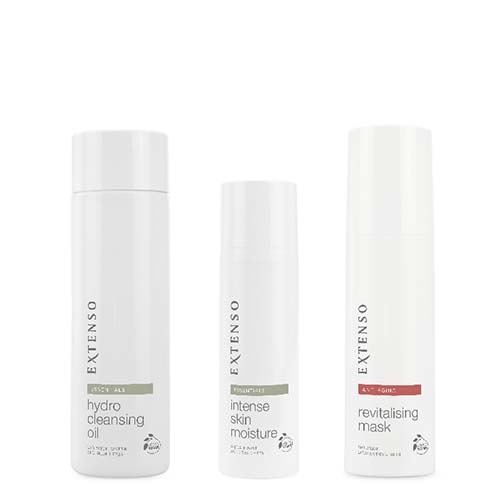 Extenso Skin care set dry skin
contains the products you need for your daily skin care routine.
Content
The Extenso Dry Skin Care Set contains the following products:
Hydro Cleansing Oil 250ml
Intense Skin Moisturizer 75ml
Revitalizing Mask 150ml
A hydrophilic cleansing oil that effectively removes dirt, make-up and impurities from the skin without drying it out. Extenso Hydro Cleansing Oil contains natural oils that carefully cleanse the skin and protect its elasticity and moisture level. After cleansing, the skin will feel fresh, soft and supple.
A silky, refreshing cream with intensive moisturizing ingredients and natural ingredients such as Panthenol, Lemon Balm and Allantoin. Extenso Intense Skin Moisturizer strengthens the skin's vitality and helps protect it against free radicals.
This revitalizing, firming mask invigorates demanding skin. Active ingredients strengthen, stimulate and visibly improve tissue tension and promote an even, smooth complexion. Extenso Revitalizing Mask also has an anti-aging effect and the caring ingredients improve tissue tension and activate cell metabolism. Dull skin gives way to a radiant, fresh complexion.
Usage
Step 1: cleanse your face with the Hydro Cleansing Oil. You can use this product every day, both in the morning and in the evening. Apply the product to the face and neck and then mix the oil with a generous amount of lukewarm water. Massage the product in gently so that the oil mixes with the water, creating an emulsion. Remove the cleaner using facial sponges and/or water.
Step 2: Apply a thick layer of Revitalizing Mask to face and neck. Leave the skin around the eyes free and let the mask act for 15 minutes. Remove the mask with sponges and a generous amount of lukewarm water or with a damp cloth. Always treat the skin after the mask with a lotion or care cream.
Step 3: nourish your face with the Intense Skin Moisturiser. Apply a small amount to the hand. Warm and divide the cream between both hands and distribute it evenly over your cleansed face, neck and décolleté.
Product features
Gender

Women

, Men

, Teenager

Skin type

Dry skin

Skin problem

Dull, grey skin

Care objective

Improve hydration

, Improve skin elasticity

, Radiant skin

, Skin Firming

, Skin tone improvement

, Smoother skin

, Smooth skin

Suitable for

Face

Product characteristic

Suitable for Breastfeeding

, Suitable for pregnancy

Packaging

Skincare set

Brand

Extenso
Also available seperately