Extenso Skincare set oily skin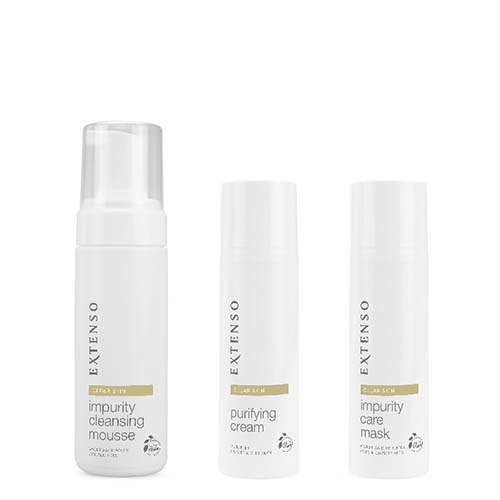 Extenso Skincare set oily skin
contains the products you need for your daily skin care routine.
Content
The Extenso Skin Care Set Oily Skin contains the following products:
Impurity Cleansing Mousse 150ml
Purifying Cream 75ml
Impurity Care Mask 75ml
This oil-free, antibacterial cleansing mousse based on white tea and tea tree is enriched with soothing ingredients and efficiently removes dirt and oil from the skin and dissolves impurities.
This cream contains, among other things, Hamamelis and Allantoin and helps the skin to normalize the excessive sebum production without drying out the skin. Extenso Purifying Cream has an anti-inflammatory and restorative effect. The cream absorbs quickly and provides a fresh and pure feeling and does not leave a greasy layer on the skin.
A grease-free mask rich in natural ingredients such as white tea, tea tree, chamomile and camphor that fight impurities.
Usage
Step 1: cleanse your face with Extenso Impurity Cleansing Mousse. You can use this product every day, both in the morning and in the evening. Apply the mousse and massage it in with damp hands. Avoid the skin around the eyes. Remove the cleaner using facial sponges and/or lukewarm water.
Step 2: Apply a generous amount of mask, 2 to 3 times a week, to a cleansed face and neck. Leave the mask on for 10 to 15 minutes. Remove the mask with sponges and a generous amount of lukewarm water or with a damp cloth.
Step 3: Apply a small amount to the hand. Divide the cream between both hands and distribute it evenly over your cleansed face, neck and décolleté.
Also available seperately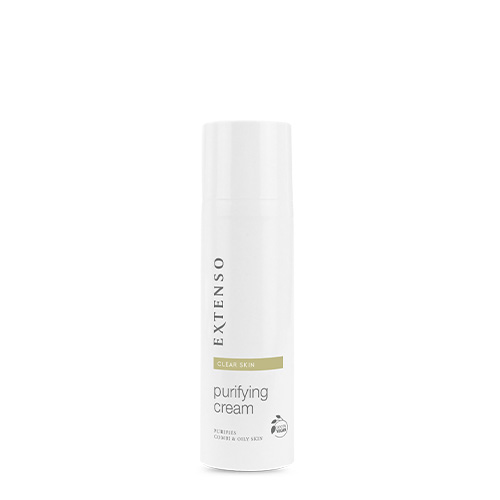 Extenso Purifying Cream 75ml