IK Skin Perfection Skincare set aged skin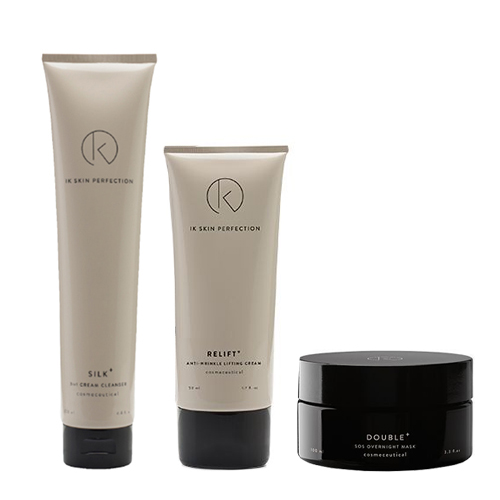 IK Skin Perfection Skincare set aged skin
contains the products you need for your daily skin care routine.
Content
The IK Skin Perfection Skin Care Set Aged Skin contains the following products:
SILK+ | 3 in 1 Cream Cleanser 200ml
RELIFT+ | Anti Wrinkle Lifting Cream 50ml
DOUBLE+ | SOS Overnight Mask 100ml
This 3-in-1 product is a silky, mild cleanser, a PH-restoring lotion and a make-up cleanser in one. It ensures that daily dirt and make-up do not have a chance to clog the pores. The vitamins in this product support the production of new skin cells and provide extra energy for the skin.
Provides an immediate wrinkle reduction, a reinforcement of the skin contours and moisturizes the skin throughout the day.
A mask and night cream in one with a creamy structure. The mask has a calming and soothing effect and supports the regenerative capacity of the skin. This rich mask is a real boost for the skin.
Usage
Step 1: clean your face with the SILK+. Use IK Skin Perfection SILK+ by massaging it over the face, neck and décolleté with damp hands every evening. Then rinse with lukewarm water.
Step 2: Apply the mask evenly on cleansed skin. Leave the mask on for 10 minutes and then remove it with lukewarm water. For use as a night care, massage the mask in the evening and remove it in the morning with lukewarm water. If you use the DOUBLE+ as night care, you don't have to use the RELIFT+ in the evening and the DOUBLE+ is sufficient.
Step 3: nourish your face with the RELIFT+. Use this product by applying it every morning and evening to a cleansed face, neck and décolleté. For optimal results, combine this product with RETINOL C+, BOTUFIX+ and EYE+.
Product features
Brand:

IK Skin Perfection

Care objective:

Calmed skin

, Improve hydration

, Reduction of wrinkles & fine lines

Gender:

Women

, Men

, Teenager

Packaging:

Skincare set

Skin problem:

Skin Aging

Skin type:

Aged skin

Suitable for:

Face