Schrijf je in voor onze nieuwsbrief
Laviesage Nutricosmetics Vitalty
Go for a healthy and vital body with more energy with Laviesage Nutricosmetics Vitality.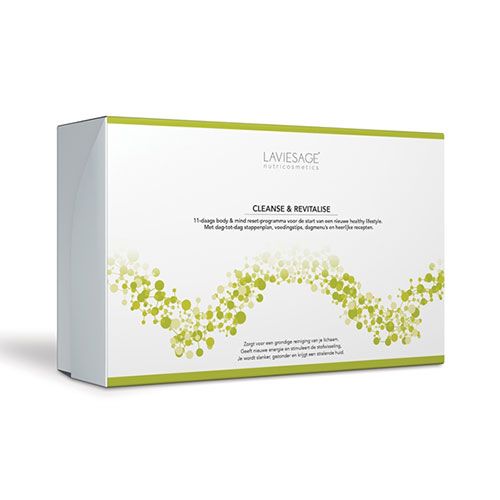 Laviesage Cleanse & Revitalize Kit
Laviesage Cleanse & Revitalize Kit Experience the results of improved nutritional intake, optimal digestion, faster fat burning, better blood circulation, and beautiful, well-hydrated and healthy skin with the 11-day body & mind reset program 'Cleanse & Revitalize.' An easy-to-follow program that offers everything you need to get started step-by-step with valuable tips, daily schedules and delicious recipes. The beginning of a new Healthy Lifestyle. Laviesage Cleanse & Revitalize brings your body back into balance in 3 logical phases within 11 days. The sophisticated program gives the body a complete reset to absorb the building materials from food easily, quickly and effectively. The benefits of the Cleanse & Revitalize Kit: Improved Nutrient Absorption Optimal Digestion Faster fat burning Better blood flow Beautiful, well-hydrated and healthy skin You get more energy How to use the Cleanse & Revitalize Kit: For each of the 11 program days, there is an informative video with an impression about the day's dish and the preparation. Instructional video Day 1 - Greek Salad Day 2 - Casserole Day 3 - Relax Smoothie Day 4 - Vitality Smoothie Day 5 - Cleansing Soup Day 6 - Duo of spaghetti Day 7 - Indian Pumpkin Soup Day 8 - Tropical Smoothie Day 9 - Beetroot Carpaccio Day 10 - Kitchari Day 11 - Blueberry smoothie Click here for the frequently asked questionnaire.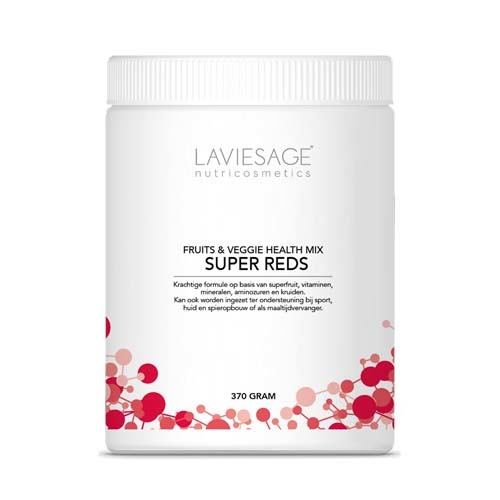 Laviesage Super Reds 370gr
Laviesage Super Reds The Laviesage Super Reds Fruits & Veggie Health Mix is packed with vitamins and minerals. It is a mix of dried fruit, with banana, bilberry, blackberry, cranberry and raspberry. The Super Reds formula is formulated with easily digestible proteins and a nice mix of amino acids, vitamins and minerals that stimulate energy metabolism. Super Reds is an enriched multivitamin preparation to support the immune system and health. It contributes to energy levels and is beneficial for digestion. In practice, it is a product for daily supplementation, for everyone who follows a healthy lifestyle. Super Reds can also be used as a cure or as extra nutritional support. The benefits of Laviesage Super Reds: Supports digestion and liver Provides strong, firm and healthy cells Contains 11 kinds of vitamins Contains 5 types of Superfruits Contains no allergens Super Reds is suitable for vegetarians Important ingredients: superfruits Super Reds is a rich formula with 5 types of Superfruits of dried banana, bilberry, cranberry, blackberry and raspberry. Packed with healthy antioxidants. herbal mixture A powerful blend of herbs with extracts such as Bamboo, Gentian8 and Turmeric* to support digestion and the liver.  Amino acids Amino acids are the building blocks of the body, which consists mainly of water and proteins. To produce proteins, the body needs "building blocks": Amino acids.Many chemical processes take place in the body every day. Amino acids are necessary for the body to be able to produce strong, sturdy and healthy cells.  Vitamins The vitamin spectrum in Super Reds includes no fewer than 11 types of vitamins A, B1, B2, B3, Biotin (B4), B6 to B12, Folic Acid, Vitamins C, D3 and E. How to use Super Reds: 1 to 2 times daily 1/2 scoop of 8.5 grams in a glass of water, fruit juice, yogurt or in a smoothie. Warning: not suitable for children up to 1 year. (statutory warning for products containing ≤ 3 mg vitamin B6 per daily dose)
Laviesage Nutricosmetics Vitality
The Vitality line of Laviesage Nutricosmetics consists of food supplements that effectively ensure the proper functioning of metabolism, the immune system and increasing resistance. In addition, Vitality provides your body with more energy. It promotes the resilience of your body and keeps your joints supple.