Schrijf je in voor onze nieuwsbrief
The products in the Mesoestetic Cosmelan line counteract pigmentation with the leading professional depigmentation method that removes skin blemishes and prevents them from reappearing. Mesoestetic Cosmelan provides both short-term and long-term results.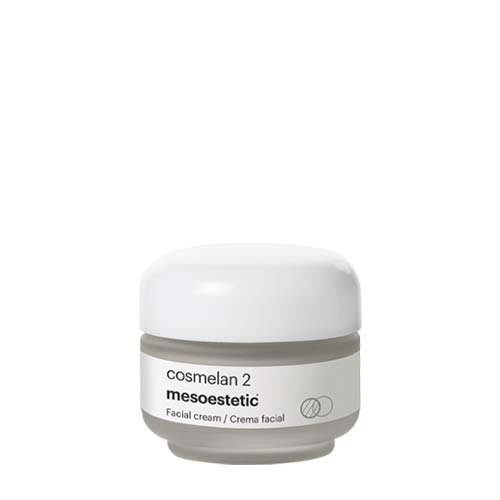 Mesoestetic Cosmelan 2 Cream 30gr
Mesoestetic Cosmelan 2 Cream Cosmelan 2 Cream is a world-famous and very intensive depigmenting cream. The cream visibly reduces pigmentation spots and the so-called pregnancy mask. The product ensures that the results obtained from a professional treatment are maintained, prevents new skin changes and ensures a beautifully even complexion. Cosmelan 2 gives a continuous boost to maintain the result of cosmetic 1. It regulates the melanocytes, which are responsible for melanin production. Frequent and continuous use is important for the effectiveness of the treatment. Failure to maintain the treatment can lead to the reappearance of the dark spots. The benefits of Mesoestetic Cosmelan 2 Cream: Provides a reduction of pigmentation spots and a pregnancy mask Prevents new skin changes Provides a nice even complexion How to use Mesoestetic Cosmelan 2 Pigment Cream: Cleanse the skin with the cleanser from Mesoestetic. Apply the Cosmelan 2 cream in the morning and/or evening. Apply the Melan Recovery over this. Always apply the Melan 130 Pigment Control over this during the day. Skin type: Pigmented, Aged, Normal
Mesoestetic Cosmelan
Cosmelan is the world's leading professional depigmentation method for the treatment of the most severe and stubborn skin blemishes.
Thanks to its unique double action mechanism (corrective and regulatory), Mesoestetic Cosmelan achieves excellent results in both the short and long term. On the one hand visible spots are eliminated and on the other hand the source of the problem is tackled. The overproduction of pigment is regulated to prevent the spots from reappearing.
Cosmelan Method
If you really want to deal with your pigmentation spots then Mesoestetic has the Cosmelan method. A topical treatment that lasts about six months and combines some sessions in the salon with treatments at home to achieve optimal results.
Keep hyperpigmentation under control with Mesoestetic Cosmelan.