These anti-ageing products with high-quality nutrients protect the skin from premature ageing and help protect it from the visible signs of skin ageing, thus maintaining youthful skin.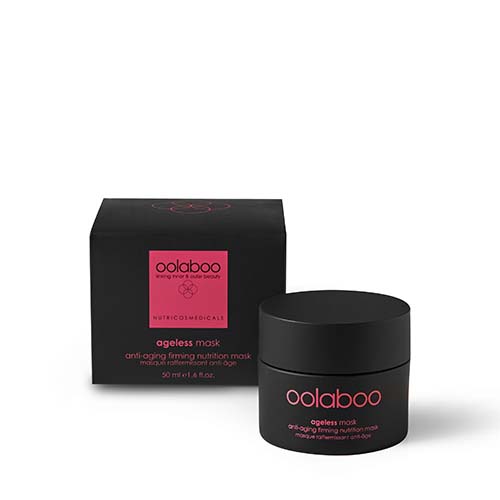 OOLABOO ageless mask 50ml
ageless mask A skin-firming anti-ageing mask packed with natural and active ingredients for dehydrated, tired and mature skin. Contains apricot kernel oil and vitamins A and C. These vitamins make the skin look healthy. Vitamin A can have a beneficial effect on inflammation. Apricot kernel oil is high in antioxidants and squalane restores and improves skin balance. The benefits of ageless mask Intensively cares for mature skin that gets dry quickly, recovers less well and loses its firmness and elasticity. Improves skin balance and refines fine lines and wrinkles. The composition of bioactive ingredients stimulates the skin's self-healing ability. How to use ageless mask Apply to well-cleaned skin (face, neck and décolleté) and massage in gently. Leave for 10 minutes. Then remove with lukewarm/warm water or a warm, damp towel.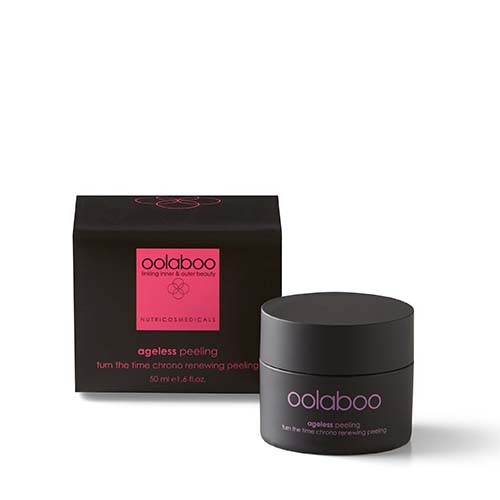 OOLABOO ageless peeling 50ml
ageless peeling A mild, effective and nourishing exfoliation based on fruit enzymes (AHA), recommended for normal and mature skin conditions (from 30 years old onwards). The benefits of ageless peeling Visibly reduces wrinkles and lines Provides tremendous improvement to the skin Visible reduction of wrinkles Smooth and even (surface) skin Skin feels clean and smooth Cornified skin cells are effectively removed Strengthens the vitality of the skin How to use ageless peeling Apply peeling once or twice a week to well-cleaned and dry skin. Apply the peeling with a brush as the acidity can affect the skin. Be careful around the eye area. Leave on for 5 to 10 minutes, then remove thoroughly with lukewarm/warm water. Then ensure optimum sun protection using the saveguard protective shield (spf 30). Do not sunbathe or use a sunbed for two days.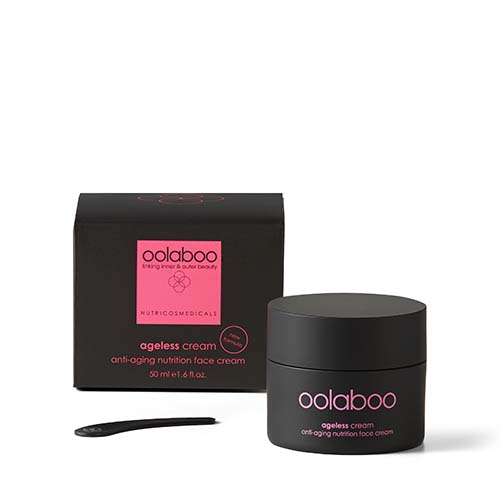 OOLABOO ageless face cream 50ml
ageless face cream A high-quality anti-ageing cream packed with natural and active nutrients, recommended for normal and mature skin (from 30 years old onwards). The cream is rich in vitamin E, hyaluronic acid and antioxidants. The benefits of ageless face cream Stimulates the build-up of collagen Hydrates Helps reduce wrinkles and fine lines Lifting and firming effect How to use ageless face cream Apply daily to clean skin (face, neck and décolleté) and massage in until completely absorbed.
Ageless line by Oolaboo: Meet timeless beauty!
A product line for the modern woman
At Oolaboo, they are passionate about creating high-quality beauty products that meet modern women's needs. With the Ageless line, they aim to help women maintain their natural beauty and combat aging.
Positive features
Effective anti-aging - The Ageless line is specifically designed to effectively combat aging and reduce visible signs of aging, such as wrinkles and fine lines. The formulas contain proven ingredients that firm, hydrate and soften the skin, leaving you looking younger and more radiant.
Natural ingredients - At Oolaboo, they believe in the power of natural ingredients. That's why the Ageless line contains only high-quality natural extracts, vitamins, and minerals that nourish and protect the skin from harmful environmental influences. No synthetic additives or toxic chemicals are used because they want you to get the best for your skin.
Sustainability - Besides taking care of your skin, they also value sustainability. Ageless products are made from recyclable materials and strive to keep their carbon footprint as small as possible. So by choosing Oolaboo Ageless, you are contributing to a better world.
Discover the magic of Ageless
Are you ready to embrace your natural beauty and fight to age? Then it's time to get acquainted with the Ageless line. The products are carefully formulated and have delivered proven results for women of different ages and skin types. Whether you want to work on reducing wrinkles, improving skin elasticity, or restoring a youthful glow, Oolaboo Ageless solves every problem.
The Ageless line includes day creams, night serums, and eye care products designed for anti-aging purposes. Thanks to years of research, innovative formulas have been developed that deliver visible results without long-term harmful effects. At Oolaboo, they understand that every woman is unique, which is why the Ageless line offers a range of products to meet various needs.