Schrijf je in voor onze nieuwsbrief
The Silk'n range consists of professional, aesthetic devices for home use. Designed to make life easier and more comfortable.
Silk'n Bright facial brush
Ultra-hygienic facial brush Do you dream of cool, glowing skin? Meet Silk'n Bright! This skin-friendly silicone facial cleanser is the way to cleanse and massage your skin deeply. The facial brush removes dirt and make-up residues in seconds, unclogs pores, and provides gentle exfoliation. The skin's circulation is improved, resulting in a healthy, peachy glow. Deep cleansing and massage of the skin Removes dirt and make-up residues, unclogs pores 5x more effective than manual cleaning Improves circulation for a radiant appearance Promotes the absorption of skincare products     Cleanse your face with a facial brush Silk'n Bright has long, soft silicone studs that offer many benefits! Dirt, oil, and make-up residue are removed from your face and leave a clean, refreshed feeling. From the first cleanse with this facial brush, you will notice a big difference in your skin's softness and complexion. And because of the absence of impurities, skincare products will be absorbed more easily by the skin. Besides, this facial brush's silicone material is very soft, which makes it suitable for all skin types.   Ultra-hygienic and money-saving! Unlike a standard electric facial cleanser, this silicone facial cleanser is resistant to bacteria build-up and guarantees an ultra-hygienic cleaning routine every day. Moreover, Silk'n Bright saves you money because you never have to repurchase new brush heads.     Double-sided silicone facial cleanser: cleansing and massage The Silk'n Bright silicone facial cleanser can be used on both sides. The front contains silicone nubs for deep cleaning. The thinner nubs provide a gentle clean, and the thicker nubs allow for a more precise clean, especially for hard-to-reach areas such as around the nose, eyes, and chin. The back features silicone ribs designed to give your skin an invigorating, relaxing massage and relieve stress. Moreover, you can also use this side with your favorite serum or day or night cream. The high-frequency vibrations ensure that these care products penetrate deeper into the skin and thus work more effectively. Additional functions of the electric facial cleanser This electric facial cleanser has a high-frequency vibration and pulsation mode set at 7 speeds, with a maximum of 8,000 beats per minute! The interval timer will let you know every 30 seconds to move to a different part of the face. After 2 minutes, the electric facial cleanser switches off automatically. This electric facial cleanser is rechargeable and can be used up to 60 times on one full charge. Finally, Silk'n Bright is 100% waterproof and therefore suitable for in the shower or bath.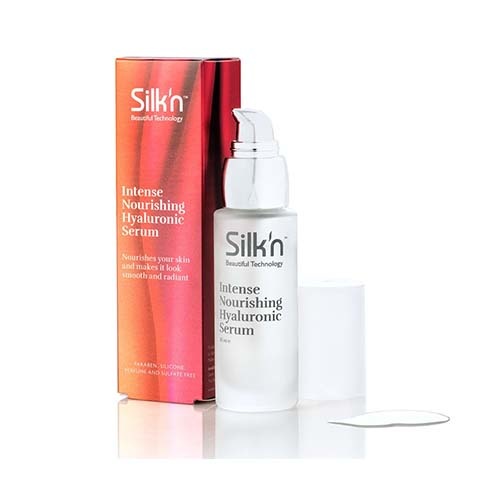 Silk'n Hyaluronic Serum 30ml
Serum against signs of skin aging Silk'n Intense Nourishing Hyaluronic Serum (30ml) nourishes and moisturizes the skin intensively and is absorbed quickly. It contains only five ingredients, the main ingredient being Hyaluronic Acid. Hyaluronic acid ensures that the skin retains more moisture, with the result that wrinkles and lines are less deep. Besides, it ensures that the production of collagen in the skin is stimulated. Reduces the appearance of fine lines For hydrated and smooth skin With hyaluronic acid Has a strengthening effect in combination with FaceTite Suitable for all skin types   What is the Hyaluron Serum? Hyaluronic acid is naturally a building block of our skin. As we age, our skin produces less and less of this, resulting in fine lines, wrinkles, and less elastic skin. Hyaluronic acid is, therefore, indispensable and, therefore, the main ingredient of the Silk'n Hyaluronic Serum. It can retain a large amount of moisture and helps the skin to regain its vital radiance.   The serum can be used in three ways: Use it daily for intensely hydrated, smooth, and radiant skin. Use it during a Silk'n FaceTite treatment for an immediate tighter result. Use it after a Silk'n FaceTite treatment for a cooling and calming effect.   How to use daily: Make sure the skin is well cleansed and dry. Apply one or two drops of the serum to the face and neck. Massage it in with the fingertips and make circular movements to let it penetrate deep into the skin. Make sure the serum is well absorbed and then apply your daily day or night cream. Use twice a day, in the morning and evening. How to use during the Silk'n FaceTite treatment: Instead of using Silk'n Slider Hyaluronic Gel, apply a thin layer of serum to the treatment surface of the device. Treat the skin on the highest energy level until the skin completely absorbs the serum. Apply a moisturizing cream immediately after the treatment.   How to use after treatment with Silk'n FaceTite: Complete the Silk'n FaceTite treatment as usual with Silk'n Slider Hyaluronic Gel. Remove any gel residue on the skin with a towel or wash the face with water. Apply a thin layer of serum all over the face and neck and massage into the skin until it is completely absorbed. Apply a moisturizer.
About Silk'n
Silk'n is known for its professional, aesthetic devices for home use. Silk'n products are specifically designed to make life easier and more comfortable.
With Silk'n devices, you can easily remove unwanted hair growth on the body and face in the comfort of your own home.