Extenso Serum Glycolic 6% 30ml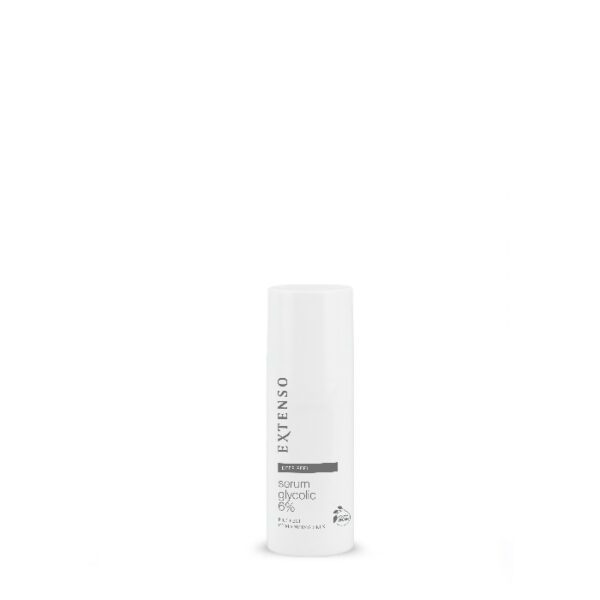 Extenso Serum Glycolic 6%
The Extenso Serum Glycolic 6% is a serum based on glycolic acid and thins the stratum corneum, stimulates cell renewal and promotes the natural production of collagen and elastin. Serum Glycolic 6% also ensures an optimal moisture balance and reduction of pigmentation spots. The serum is also used in preparation for a chemical peel by the skin specialist.
The benefits of Serum Glycolic 6%:
Thins the horny layer
Stimulates cell renewal
Promotes natural collagen and elastin production
Ensures an optimal moisture balance
Reduces pigmentation spots
How to use Extenso Serum Glycolic 6%:
It is important to build up the use of products that contain fruit acid. The first week: Apply three times a week (morning/evening). The second week: apply every other day (morning/evening). The third week: apply daily (morning/evening). Then continue with daily use. Is your skin starting to flake? Then switch back in frequency.
Please note: when using this serum it is important to protect the skin from UV rays during the day with Skin Recover Shield.
Skin type:
Suitable for mature, dull, impure and oily skin with pimples and blackheads.
Product features
Brand:

Extenso

Care objective:

Improve hydration

, Improve skin elasticity

, Reduction of pigmentation and age spots

, Skin Firming

Contents:

30 ml

Gender:

Women

, Men

Packaging:

Full Size

Product Type:

Glycolic Serum

Product characteristic:

Cruelty free

, Fragrance free

, Free from artificial fragrances and colorants

, Parabens free

, Paraffin-free

, Vegan

Product line:

Deep Peel

Skin problem:

Dull, grey skin

, Pigmentation

, Skin Aging

Skin type:

Aged skin

, Blemished skin

, Oily skin

Suitable for:

Face