Extenso Skin care set dehydrated skin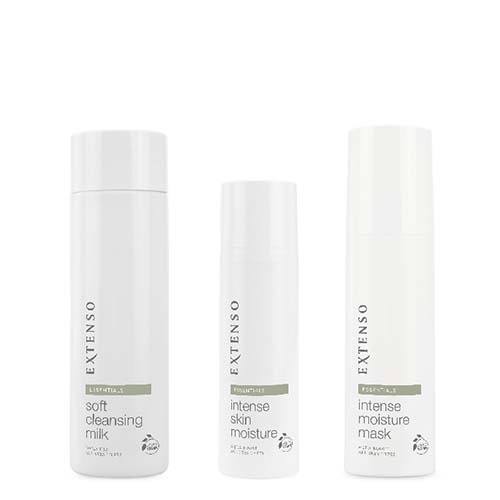 Extenso Skin care set dehydrated skin
contains the products you need for your daily skin care routine.
Content
The Extenso Skin Care Set dehydrated skin contains the following products:
Soft Cleansing Milk 250ml
Intense Skin Moisturizer 75ml
Intense Moisture Mask 150ml
Removes make-up and cleanses the skin while maintaining a good moisture balance, without drying it out.
A silky, refreshing cream with intensive moisturizing ingredients and natural ingredients such as Panthenol, Lemon Balm and Allantoin. Extenso Intense Skin Moisturizer strengthens the skin's vitality and helps protect it against free radicals.
It restores moisture and regulates the moisture balance and counteracts the evaporation of moisture in the skin. It also helps the skin retain moisture.
Usage
Step 1: cleanse your face with Extenso Soft Cleansing. You can use this product every day, both in the morning and in the evening. Wet your face with warm water. Apply the emulsion to your face and massage it in gently with upward movements. Remove the cleaner using facial sponges and/or water.
Step 2: Apply a thick layer of Extenso Intense Moisture Mask evenly on the face, neck and décolleté. Leave the skin around the eyes free and let the mask work for 15 to 20 minutes. Remove the mask with sponges and a generous amount of lukewarm water or with a damp cloth. Always treat the skin after the mask with a lotion or care cream.
Step 3: nourish your face with the Intense Skin Moisturiser. Apply a small amount to the hand. Warm and divide the cream between both hands and distribute it evenly over your cleansed face, neck and décolleté.
Also available seperately