Laviesage Skin Secure 120 capsules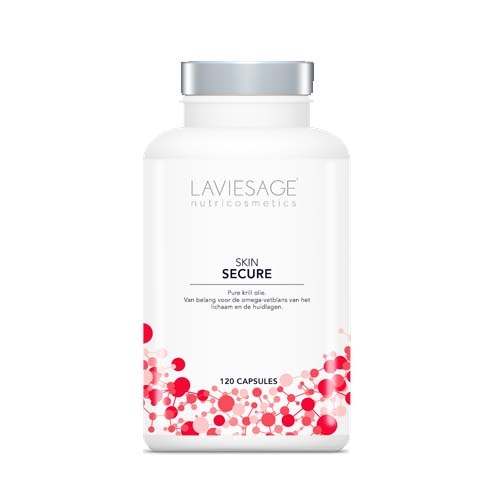 Laviesage Skin Secure
Laviesage Skin Secure is a capsule filled with pure krill oil which is extracted from small shrimp-like plankton. These omega-3 fatty acids contribute to the recovery of the fat balance and the skin. This is achieved by the highly concentrated essential fats from krill oil which is of the highest purity and quality. Krill oil contains EPA, DHA and phospholipids that ensure the integration and improvement of the cell membrane.
The result is skin with a good omega-fat balance that supports the skin's natural repair process. Skin Secure works quickly and effectively and is anti-inflammatory. Suitable for people with rosacea, rosacea, psoriasis and acne.
The benefits of Skin Secure:
Fat balance of the skin is restored
Gives a lot of energy
Supports the natural recovery process for skin problems
How to use Skin Secure:
It is best to take it in the morning: this is because the SkinSecure can give a lot of 'brain energy'. This could disturb the night's sleep if taken later. The dosage is from 2 to 4 capsules, depending on the need. With a large omega-3 requirement, 4 to 6 capsules per day may be used.
Product features
Brand:

Laviesage

Care objective:

Reducing skin irritation

Contents:

120pc

Gender:

Women

, Men

Packaging:

Full Size

Product Type:

Healthy skin supplement

Product line:

Nutricosmetics

Skin problem:

Acne

, Couperose

, Psoriasis

, Rosacea

Skin type:

Blemished skin

, Oily skin

, Sensitive skin

Suitable for:

Body