Schrijf je in voor onze nieuwsbrief
A deep cleanse is the second step within the 6-step plan of Cenzaa and refreshes, polishes and evens out the skin. Deep cleansing emulsions from Cenzaa give the skin its vitality back and help the active ingredients to be absorbed deeper into the skin.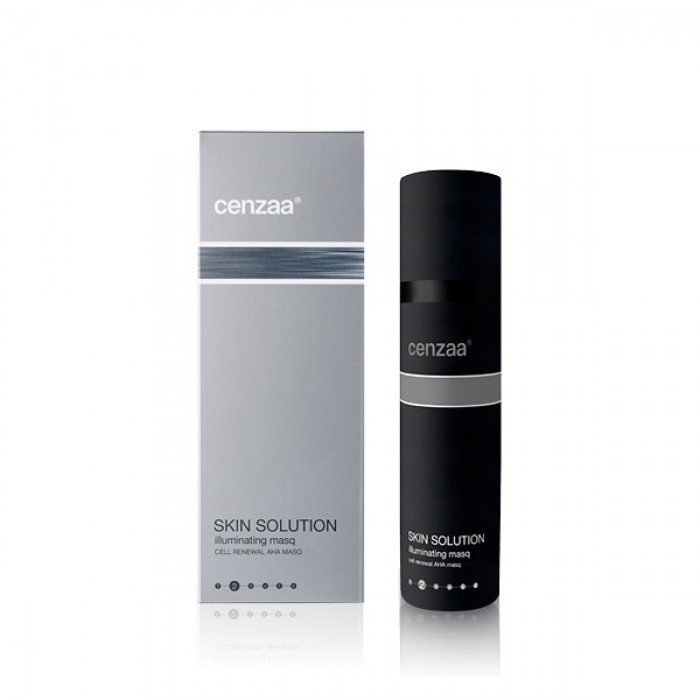 Cenzaa Illuminating Masq 50ml
Illuminating Masq Cenzaa Illuminating Masq [Cell Renewal AHA Masq] is an intensive mask that removes skin imperfections and reduces coarse pores, a dull complexion and unwanted wrinkle formation. THE UNIQUE EXPERIENCE Powerful fruit acids actively stimulate cell renewal. Firm skin and a fresh appearance are the results! The benefits of Illuminating Masq: Restorative fruit acid mask Evens out skin imperfections Maximum cell renewal Effective against wrinkles and dull complexion Refines coarse pores How to use Illuminating Masq: Apply the Illuminating Masq generously 2 to 3 times a week on your cleansed skin and let the mask work for 10 to 15 minutes. Remove the mask with lukewarm/warm water. Important ingredients: ALPHA HYDROXY ACIDS Powerful fruit acids, remove dead skin cells, stimulate cell renewal and give a fresh look BOTANICA ECHINACEA The red coneflower is responsible for the recovery of the skin and gives it firmness CELL DNA AGE REPAIR Photo-aging damage is repaired, resulting in an improvement in the structure of the skin. Skin type: Young & Normal Skin, Dehydrated & Dry Skin, Sensitive & Red Skin, Mature & Older Skin, Tired & Stressed Skin, Combination & Oily Skin, For Men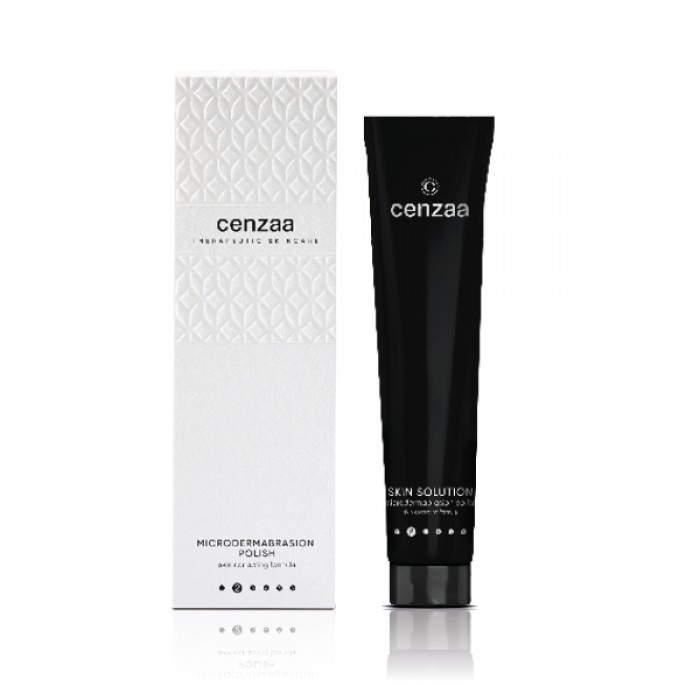 Cenzaa Microdermabrasion Polish 140ml
Microdermabrasion Polish An intensive scrub that polishes the skin with fine bamboo and rice grains. The exclusively formulated scrub cream evens and refines the structure and texture of your skin without damaging or irritating. Experience an even and radiant complexion with the Microdermabrasion Polish. This product with active ingredients deeply hydrates, repairs and strengthens the skin! Velvety soft skin and a fresh appearance, that is the result. Benefits of Microdermabrasion Polish: Polishes the skin very effectively Refines and softens the skin texture Brightens the complexion and pigmentation Evens out scars, lines and wrinkles Repairs skin imperfections Visibly smooth and radiant skin How to use Microdermabrasion Polish: Moisten your skin and massage the Microdermabrasion Polish lightly and slowly into the skin, smoothing from the inside out with circular movements. Rinse generously. Then apply Velvet or Illuminating Mist for a perfect absorption of your Cenzaa skin-enhancing products. Finish with your favourite Cenzaa cream and/or serum. Important ingredients: ALPHA HYDROXY ACIDS Powerful fruit acids, remove dead skin cells, stimulate cell renewal and give the skin a fresh look. MICRO DERMA PEARLS Unique combination of fine rice and bamboo grains that polish the skin. Resulting in a velvety soft skin and radiant complexion. NIACINAMIDE is vitamin B3, the natural antibiotic. Niacinamide is cell-renewing and strengthens the barrier function of the skin. Skin type: Suitable for young and normal skin, dehydrated and dry skin, mature and older skin, tired and stressed skin, combination and oily skin.
Step 2: Deep cleansing
In addition to cleansing your face daily, it is important to apply a deep cleansing to your skin one to three times a week. A deep cleanse is the second step within the 6-step plan of Cenzaa. Dead skin cells and impurities are removed, the pores purified and irregularities evened out. A deep cleansing refines lines and wrinkles, brightens a dull complexion and evens out scars. It also stimulates cell renewal, so your skin will have a fresh and young appearance again or will keep it that way. The skin regains its vitality and is prepared to transport the active ingredients of the following steps deeper into the skin. Would you like an alternative to the 'mechanical' exfoliation? Then use the Illuminating Masq with hydroxy acids that has an enzymatic action.
Cenzaa Products
Besides the deep-cleansing products, the 6-step plan also consists of cleaners, power serums, 24H creams, masks and protection products. For an optimal skin care it is advisable to use one product from each step (type of product) in your care ritual.