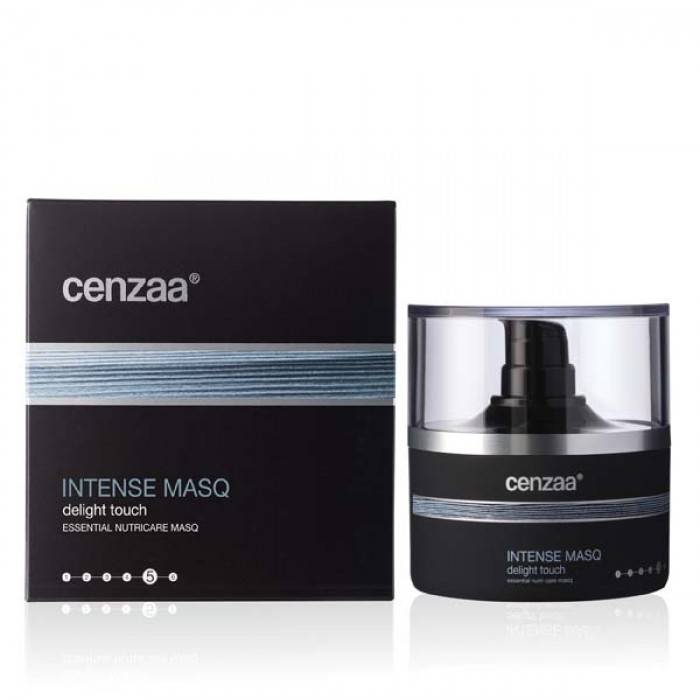 Cenzaa Delight Touch 50ml
Delight Touch An intensively moisturizing, restorative and nourishing mask for energized and radiant skin. It improves the skin tone, makes the skin smoother and firmer. This delicious mask with its rich texture has a pleasant fragrance sensation. Also very suitable as an intensive Sleeping Mask, mask and night care in 1! The benefits of DelightTouch: Vitalising & nourishing Instant moisture boost Lifting & Tension Volume & elasticity Suitable as a rich night care How to use Delight Touch: Apply once or twice a week to cleansed skin and leave on for 10 to 15 minutes. If necessary, remove with lukewarm water or massage in. Also suitable as night care. Important ingredients: SILK EXTRACT The Queen of fibres. The silk extracts have a protective effect, regulate the moisture content of the skin and provide a silky soft result 4D AGE REPAIR COMPLEX Peptides stimulate collagen production, reduce the depth of wrinkles, improve skin tone, make skin smoother, thicker and firmer ARGAN OIL The liquid gold from Morocco has a nourishing, firming and moisturizing effect Skin type: Young & Normal Skin, Dehydrated & Dry Skin, Sensitive & Red Skin, Mature & Older Skin, Tired & Stressed Skin, Combination & Oily Skin, For Men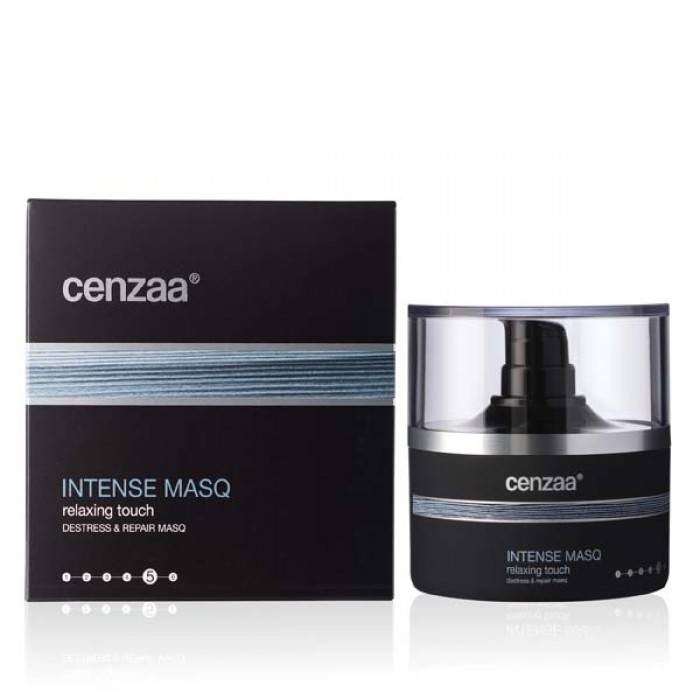 Cenzaa Relaxing Touch 50ml
Relaxing Touch SOOTHING, COOLING AND RESTORING! Relaxing Touch [Destress & Repair Masq] is an intensively calming, de-stressing and moisturizing mask for sensitive and irritated skin. THE UNIQUE EXPERIENCE De-stresses the skin, counteracts redness and immediately gives a comfortable feeling. The skin returns to balance. Also very suitable as an intensive Sleeping Mask, mask and night care in 1! The benefits of Relaxing Touch Calms & reduces redness Stimulates healing process More even skin appearance Protects against free radicals Reduces hot and burning sensation How to use Relaxing Touch: Apply once or twice a week to cleansed skin and leave on for 10 to 15 minutes. If necessary, remove with lukewarm water or massage in. Also suitable as night care. Important ingredients: BLACK QUINOA is a superfood from South America. The soothing and calming effect helps to restore the skin barrier. COUPEROSE COMPLEX contains horse chestnut. Protects and strengthens the capillaries and gives the skin a soothing and soothing effect. NEUROCALM THERAPY COMPLEX contains, among other things, black currant stem cell extract. Repairs and soothes reduce redness and rebalances the skin. Skin type: Young & Normal Skin, Dehydrated & Dry Skin, Sensitive & Red Skin, Mature & Older Skin, Tired & Stressed Skin, Combination & Oily Skin, For Men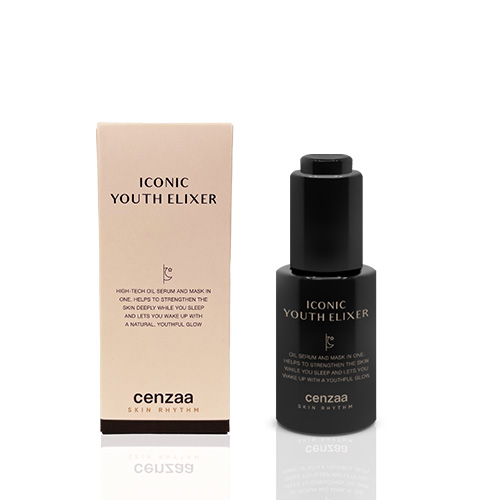 Cenzaa Skin Rhythm Iconic Youth Elixer 30ml
Cenzaa Skin Rhythm Iconic Youth Elixir Discover now the ultimate nighttime serum and mask in one! This innovative product is the perfect combination of natural ingredients and technological marvels. The Iconic Youth Elixer will leave your skin amazed. Thanks to a unique blend of natural oils and high-tech ingredients, your skin will be intensively cared for. Fine lines and wrinkles will be reduced, while your skin texture will be refined. Redness and skin discoloration caused by sun damage or environmental influences will also be visibly reduced. The benefits of Skin Rhythm Iconic Youth Elixer Nighttime serum and mask in one. Stimulates skin rejuvenation. For velvety smooth, plumped and smoothed skin. Your skin feels firmer. Helps reduce redness and fine lines. Provides a brighter complexion and improves your skin texture. How to use Skin Rhythm Iconic Youth Elixir Begin your evening routine with Miracle cleanser, a gentle and effective cleanser that effortlessly removes all impurities. Then apply Flawless Skin Therapy to your cleansed skin and leave it on for a while. Put four to five drops of the Iconic Youth Elixer on your fingertips. Massage this carefully into your skin, hold your palms in front of your face and take a moment to breathe in the wonderful scent and quiet your mind. Now spread the oil over your face and neckline with upward strokes. Give it a moment to soak in. Tip: Preheat skin with a warm cloth. Apply a generous amount of Iconic Youth Elixer to the skin and leave on for 10 minutes as an oil mask. This infuses the skin with the wonderful blend of active ingredients. After 10 minutes of soaking time, massage the remaining oil into the skin with gentle upward movements or with the Cenzaa Cell Activating Cups for an even more intense in-depth effect. This stimulates circulation and the active ingredients will be optimally absorbed by the skin. Leave the oil to work overnight after which you wake up to velvety soft, plumper skin. Please note that using the natural form of retinol makes the skin more sensitive to sunlight. Therefore, always use a Cenzaa SPF during the day. We advise you not to use this product during pregnancy or while breastfeeding.
Step 5: Facial masks
Using Cenzaa's face mask is the fifth step within the 6-step plan. The face masks offer the perfect supplement that the skin needs. Cenzaa's face masks are true vitamin cocktails for the skin. The skin is temporarily closed off, retaining moisture and warmth, and waste products are better removed. It is recommended to apply a facial mask to your face three times a week. Cenzaa face masks calm down skin stress and let tired skin shine again. Did you know that you can also perfectly use our face masks as night care? The facial mask penetrates even deeper into the skin.
Cenzaa Products
Besides facial masks, the 6-step plan also consists of cleaners, deep cleaners, power serums, 24H creams and protection products. For optimal skin care it is advisable to use one product from each step (type of product) in your care ritual.