Medik8 Smooth Body Exfoliating Kit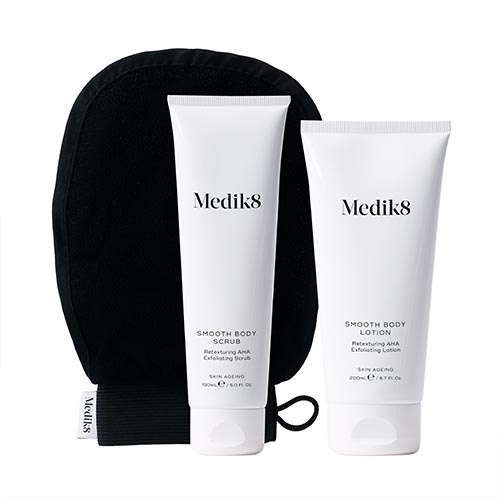 Medik8 Smooth Body Exfoliating Kit
Medik8 Smooth Body Exfoliating Kit is perfect for anyone who suffers from rough, dry or flaky skin. Both the scrub and lotion contain exfoliants to make the skin smoother, softer and more supple. The included exfoliating glove enhances the effect and is ideal for traveling.
Medik8 Smooth Body Scrub contains a combination of chemical and mechanical exfoliants. It works effectively against dry, bumpy skin. Natural butters nourish the skin and leave it feeling soft and supple. The skin looks renewed and fresh.
Medik8 Smooth Body Lotion contains various exfoliating ingredients. They work together to gently renew the skin's surface. In addition, the lotion provides the skin with moisturizing and nourishing substances, which contribute to a soft and smooth skin. The lotion feels light and absorbs quickly.
Medik8 Smooth Body Mitt has a mild scrub effect. It is ideal for local removal of flakes and rough spots.
The benefits of Medik8 Smooth Body Exfoliating Kit:
Soothes the skin
Exfoliates the skin
Reduces dry spots
Vegan
Smoothes the skin
This is how you use Medik8 Smooth Body Exfoliating Kit:
Use 2-3 times a week. Before showering or bathing, massage Smooth Body Scrub into dry skin in circular motions. Leave it on for 5 minutes before rinsing it off. Then use Smooth Body Mitt (glove can also be used without Smooth Body Scrub). Use dry for a more intensive peel, or use damp for a softer peel. Gently rub the skin with light circular motions. Massage Smooth Body Lotion into dry skin every morning and evening with gentle circular movements. Follow with a sunscreen if necessary. Wash your hands after use.
Product features
Brand:

Medik8

Care objective:

Improve hydration

, Smooth skin

Gender:

Women

, Men

, Teenager

Packaging:

Gift set

Product characteristic:

Vegan

Skin type:

All Skin types

, Dry skin

Suitable for:

Body

, Feet

, Hands