Prescription Ascorbic Acid 20% 25ml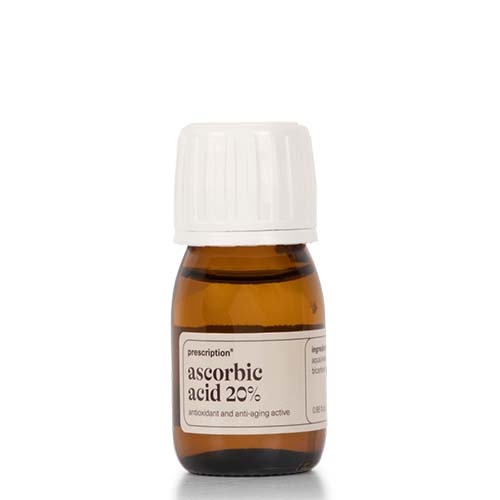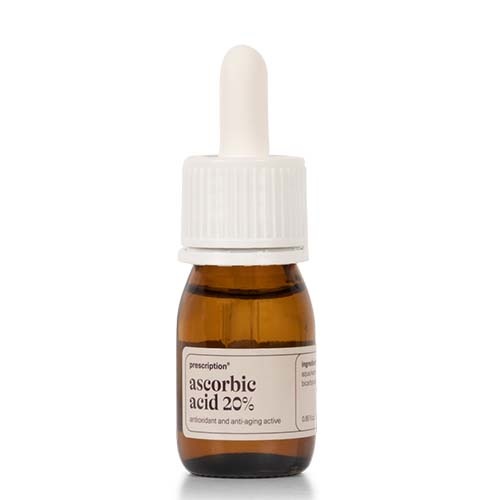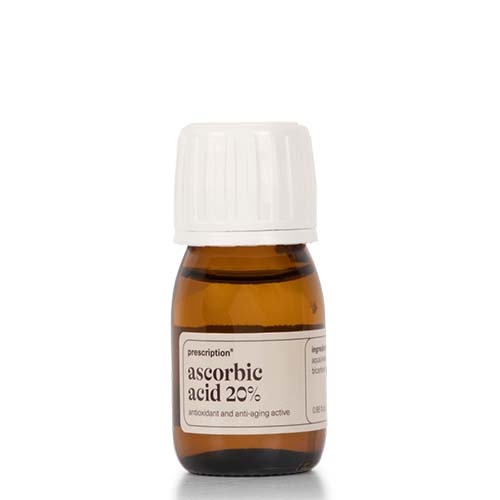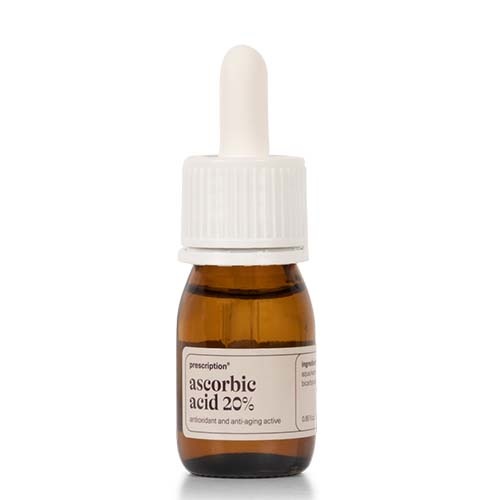 Ascorbic Acid 20%
Ascorbic Acid (or Vit C) stimulates collagen production, works against pigmentation spots and is also a super antioxidant.
The Benefits of Ascorbic Acid 20%
Helps inhibit skin aging
Reduces pigmentation
Reduces impurities
Restores the skin barrier
What can you expect from this active?
This prescription™ active contains no less than 20% pure vitamin C (!) and that is the highest possible percentage for individual sales. A true bestseller, because it is super active.
Skin goal: fresh skin structure, clean and even skin, fine pores.
How to use Ascorbic Acid 20%
The dosages depend on a number of factors such as your skin type and condition, your age, lifestyle and of course your wishes: what results you want to achieve. The ascorbic acid 20% mixes excellently with the Prescription basics; the Vegan Edelweiss Cleanser or the Vegan Edelweiss Cream.
Mix 4 drops preferably with the Vegan Edelweiss Cleanser (morning) or Vegan Edelweiss cream (evening)
Suitable for everyday use.
Note: Close the cap tightly after use to prevent oxidation.
About the Vegan Edelweiss Cleanser and Vegan Edelweiss Cream
The Vegan Edelweiss Cleanser and Vegan Edelweiss Cream are 100% plant-based and formulated to suit all skin types. They are the perfect carriers to ensure that this active can do its job. The ingredient Edelweiss also makes these vegan basics a powerful antioxidant!
Product features
Gender

Women

, Men

Skin type

All Skin types

Skin problem

Couperose

, Eczema

, Pigmentation

, Red skin

, Rosacea

, Scars

, Skin Aging

, Skin irritation

Product Type

Vitamin C serum

Care objective

Reduce Pimples & Blemishes

, Reduction of coarse pores

, Reduction of pigmentation and age spots

, Reduction of wrinkles & fine lines

, Smoother skin

Suitable for

Face

Texture

Liquid

Product characteristic

Suitable for Breastfeeding

, Suitable for pregnancy

Contents

25 ml

Packaging

Travel Size

, Full Size

Brand

Prescription

Key Ingredients

Vitamin-C