Cenzaa Mandelico Glow Peel 30ml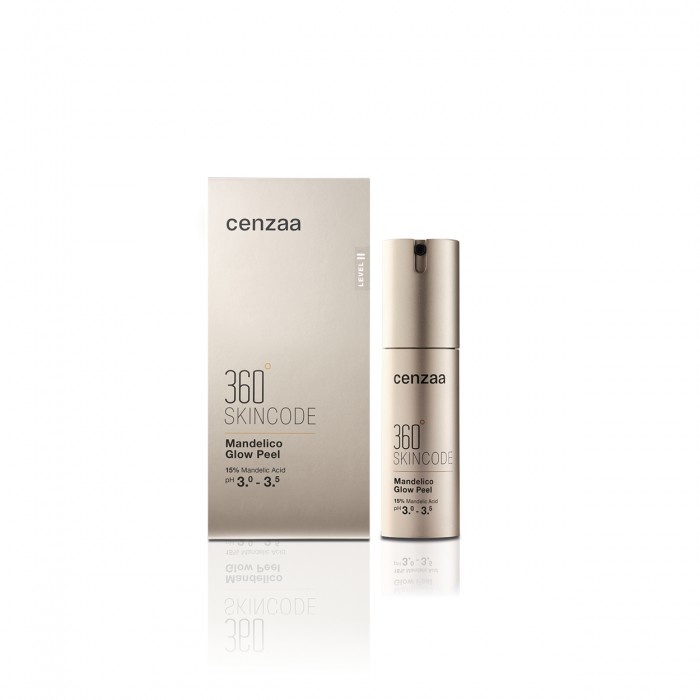 CENZAA MANDELICO GLOW PEEL
This ultra-soft peeling, based on 15% mandelic acid, exfoliates the skin in a mild but effective way so that an instant glow is immediately visible on the skin. The strength of the Mandelico Glow Peel is that it is suitable for all skin types and tackles signs of skin ageing. Mandelic Glow Peel also works as an antibacterial peeling. All without irritating the skin!
The benefits of Cenzaa Mandelico Glow Peel:
Gives an instant glow, great to use for a party
Makes skin smooth and ultra-soft
Renews the skin and creates a clear complexion
Improved moisture management
Reduction of fine lines and wrinkles
Reduces pigment and age spots
Fresher and clean skin.
Reduces the secretion of sebum
An antibacterial effect that regulates acne and prevents inflammation.
How to use the Cenzaa Mandelico Glow Peel:
Peels twice a week are used as a deep clean. Apply a thin layer to cleansed skin and leave it on for a few minutes. Remove the peeling and treat the skin with the personal 360 SKINCODE Cocktail.
We also recommend that you occasionally rinse the pump of the bottle with warm water. The formulation and the high dosage of actives could cause crystal formation, which could clog the nozzle of the pump. You can easily prevent this by flushing now and then. It is also important, as with many other products, to shake the Mandelico Glow Peel well before use.
Skin type:
Young & Normal Skin, Dehydrated & Dry Skin, Mature & Older Skin, Tired & Stressed Skin, For Men
Product features
Gender

Women

, Men

Skin type

All Skin types

Skin problem

Acne

, Couperose

, Pigmentation

, Rosacea

, Skin Aging

Product Type

Peeling

Product line

360 Skincode

Care objective

Calmed skin

, Improve hydration

, Radiant skin

, Reduce Pimples & Blemishes

, Reduction of pigmentation and age spots

, Reduction of wrinkles & fine lines

, Skin tone improvement

, Smooth skin

Suitable for

Face

Texture

Gel

Contents

30 ml

Packaging

Travel Size

, Full Size

Brand

Cenzaa

Key Ingredients

Mandelic acid