Cenzaa 360 Skincode Hyaluronic Cocktail Box 30ml/75ml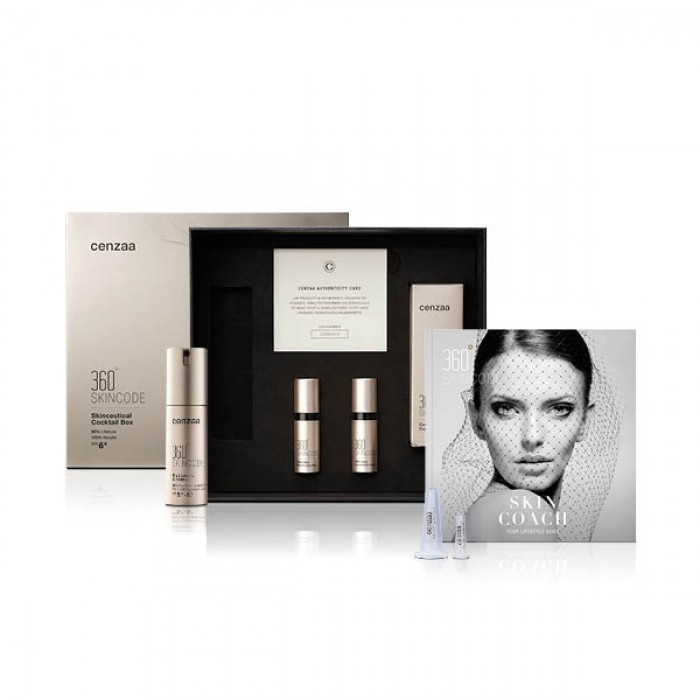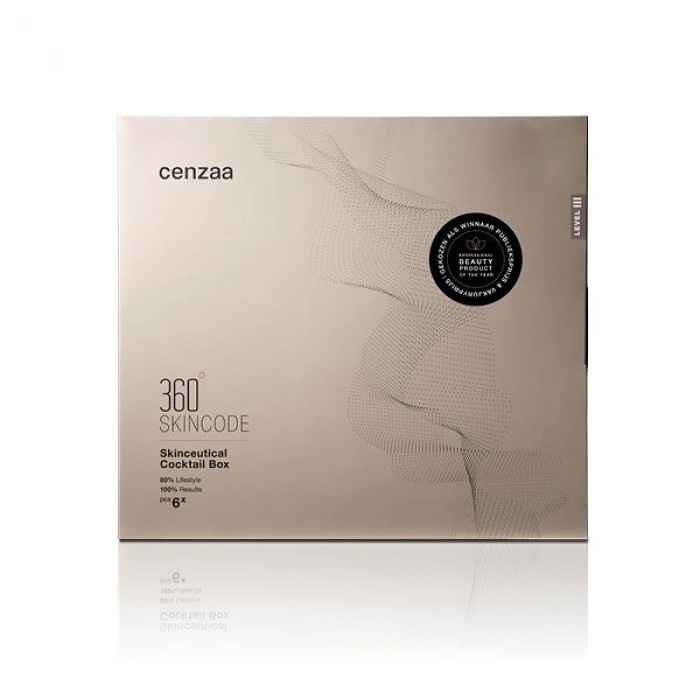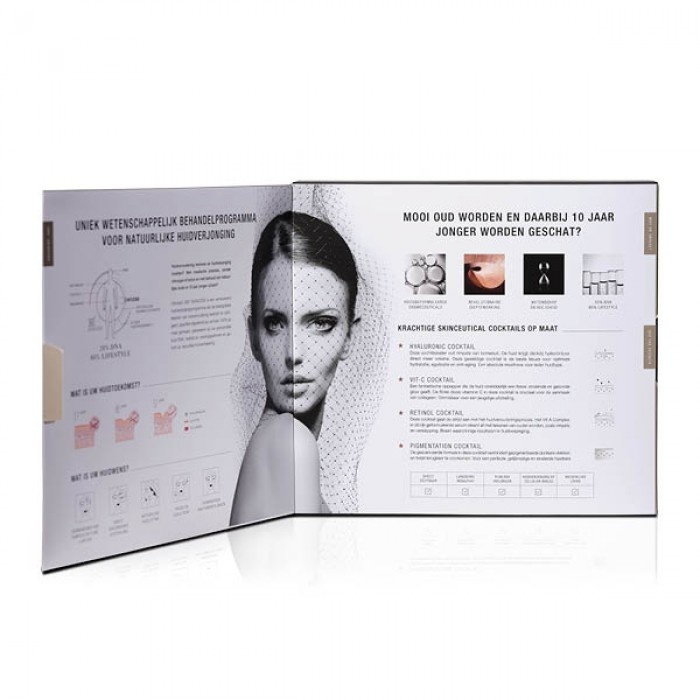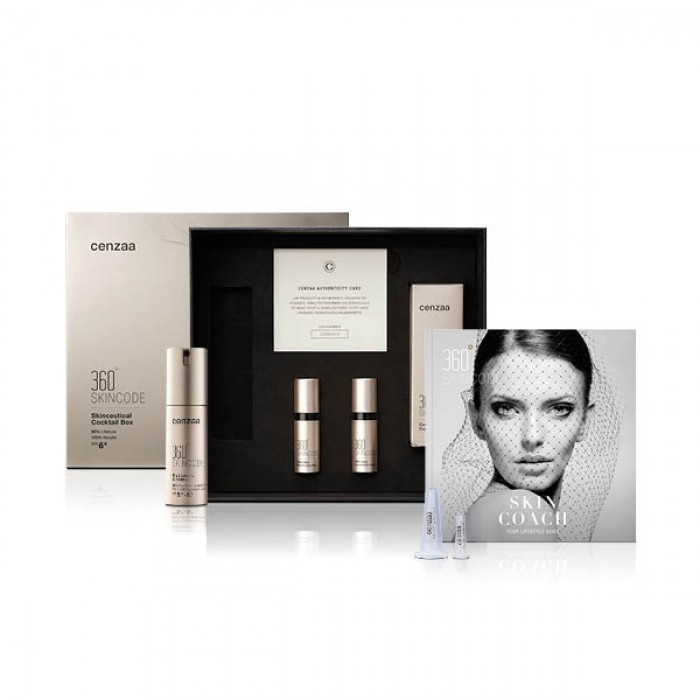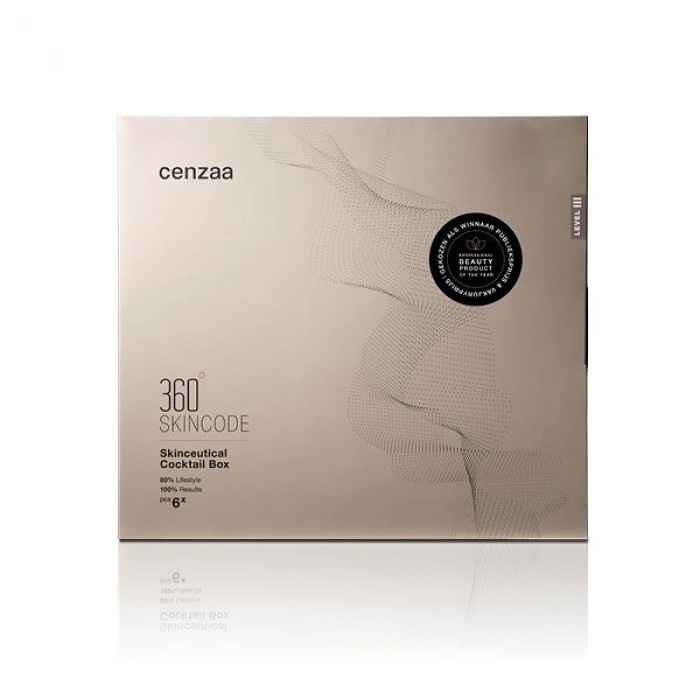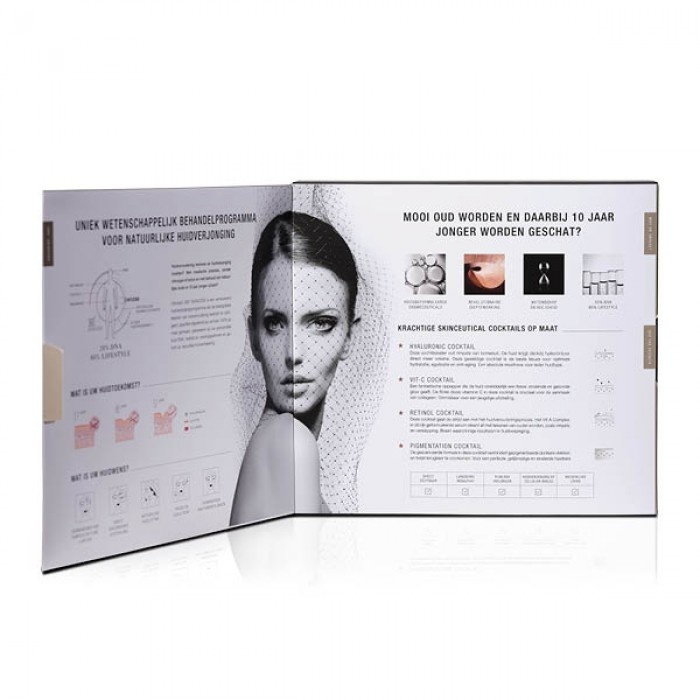 Cenzaa 360 Skincode Vit-C Cocktail Box
Cenzaa 360 Skincode Hyaluronic Cocktail Box is a moisture booster and fills wrinkles from the inside. The skin immediately gains more volume thanks to hyaluronic acid. This amazing cocktail is the best choice for optimal hydration, smoothing and anti-ageing. An absolute must-have for every skin type.
Cenzaa innovates and sets the trend in skin rejuvenation and comes with a unique skin rejuvenation program. The Skinceutical Cocktail Box is the natural and personal alternative to cosmetic surgery and enables skin rejuvenation in a professional, safe and natural way. This beautiful box is the most complete and highly formulated product in the 360º SKINCODE collection and has been specially developed to work optimally at home on revolutionary skin improvement and skin rejuvenation.
Contents
• Hyaluronic Cocktail 30ml
• Two deluxe miniatures of the 360º Skinceutical DNA Skin Revolution creams (day and night) 5 ml
• Two Cell Activating Cups
• Comprehensive 360º SKIN COACH lifestyle guide
• Authenticity Card
• Collection Card
The benefits of Cenzaa 360 Skincode Hyaluronic Cocktail Box:
Instant deep hydration of 72H
Restores the skin barrier
Fluid loss is prevented
Superficial fine lines are instantly filled
Gives the skin volume
Improves elasticity
Reduces wrinkles
Ensures smoothing of the skin
Let the skin shine
How to use Cenzaa 360 Skincode Hyaluronic Cocktail Box:
"You can control 80% of the skin's future thanks to one clear program. With 360º Skincode you achieve maximum results for both the outside and the inside!"
Apply the Skinceutical Cocktail every morning and evening on cleansed skin. For maximum results, apply the DNA Skin Revolution Day and a Cenzaa SPF product over the Skinceutical Cocktail during the day. In the evening, apply the DNA Skin Revolution Night over the Skinceutical Cocktail and massage it in with the Cell Activating Massage. This improves the removal of waste and the supply of oxygen. Perform this massage three to four times a week (5-7 minutes) for firmer, healthier and more radiant skin.
A healthy lifestyle can have a beneficial effect on the functioning of the genes on the skin. The Skincoach lifestyle guide is indispensable.
Skin type:
Young & Normal Skin, Dehydrated & Dry Skin, Mature & Older Skin, Tired & Stressed Skin, For Men
Product features
Brand:

Cenzaa

Care objective:

Improve hydration

, Improve skin elasticity

, Radiant skin

, Reduction of wrinkles & fine lines

, Skin Firming

, Smoother skin

Gender:

Women

, Men

Packaging:

Gift set

Product line:

360 Skincode

Skin problem:

Skin Aging

Skin type:

Aged skin

Suitable for:

Face