Prescription Mandelic Acid 20% 25ml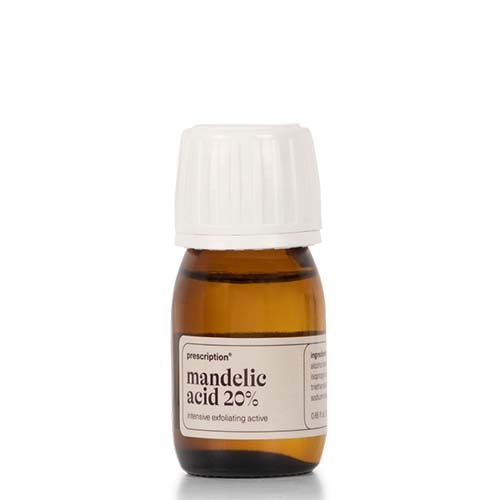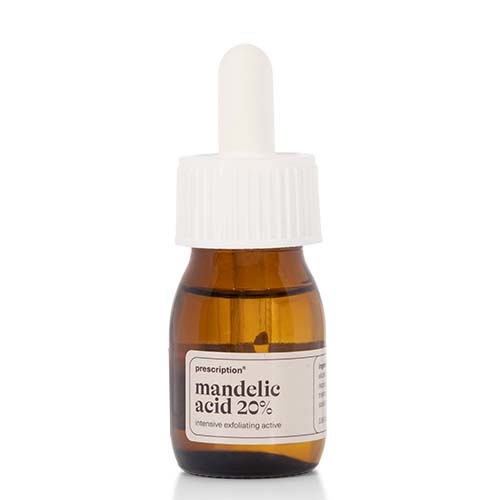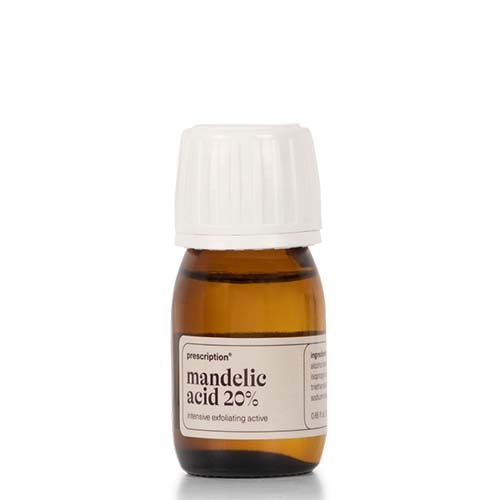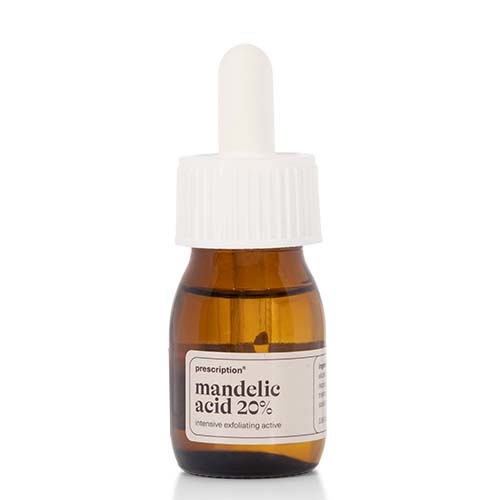 Mandelic Acid 20%
Mandelic Acid is 100% natural fruit acid and is extracted from almonds. It removes dead skin cells and tackles superficial pigmentation spots, it has an antibacterial effect and stimulates the production of collagen.
The Benefits of Mandelic Acid 20%
Removes dead skin cells
Reduces pigmentation spots
Very mild effect due to large molecules
Has antibacterial effect
Works anti-inflammatory
Stimulates collagen and elastin
Anti-aging
Refreshes dull skin
What can you expect from this active?
The Mandelic Acid active is characterized by large molecules that are very slowly absorbed into the skin and do the exfoliating work much more gradually and gently. This makes it much less irritating and gives less redness as a reaction and is very suitable for more sensitive skin. Due to the antibacterial effect, we often recommend this active (active ingredient) for acne and inflammation.
Skin goal: calm skin, red-free skin, shoe and even skin, fine pores.
How to use Mandelic Acid 20%
Mandelic Acid 20% mixes excellently with plant-based cleansers (Vegan Edelweiss Cleanser) and cannot be mixed with a cream.
Mix 3-6 drops with your Vegan Edelweiss Cleanser, let it act on the skin for 60 seconds, do not massage in (the liquid will start to curl).
Then remove thoroughly with water. This is allowed 3 to 5 times a week.
You can also use the Mandelic Acid as a loose peel.
Note: when used separately, it is more intensive and must be well neutralized with water.
About the Vegan Edelweiss Cleanser and Vegan Edelweiss Cream
The Vegan Edelweiss Cleanser and Vegan Edelweiss Cream are 100% plant-based and formulated to suit all skin types. They are the perfect carriers to ensure that this active can do its job. The ingredient Edelweiss also makes these vegan basics a powerful antioxidant!
Product features
Brand:

Prescription

Care objective:

Improve skin elasticity

, Redness reduction

, Reduction of coarse pores

, Reduction of pigmentation and age spots

, Reduction of wrinkles & fine lines

, Skin Firming

, Smoother skin

Contents:

20 ml

Gender:

Women

, Men

Packaging:

Full Size

Product Type:

Peeling

Skin problem:

Couperose

, Eczema

, Pigmentation

, Red skin

, Rosacea

Skin type:

All Skin types

, Sensitive skin

Suitable for:

Face

Texture:

Liquid