Beauty Supps Ultra Greens 300gr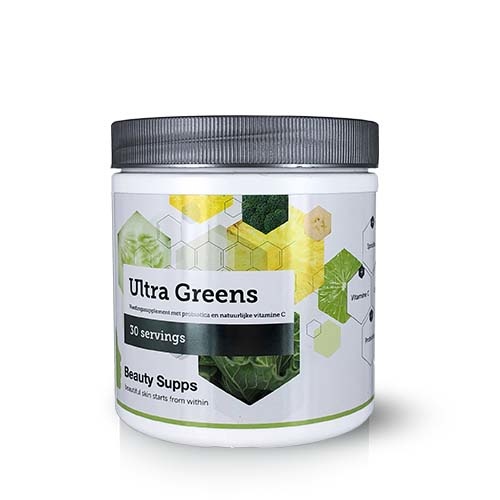 Ultra Greens
It promotes good health and counteracts mineral deficiencies. For example, our body needs the recommended amount of fresh fruits and vegetables every day. Unfortunately, we do not always get this amount, which means we may not consume enough essential nutrients. This can acidify the body, which lowers the pH value and can lead to all kinds of health problems. Beauty Supps ULTRA GREENS replenishes these deficiencies, vitamins, minerals and other nutrients and restores the body's neutral pH for good health and renewed energy.
The benefits of Ultra Greens:
Promotes good health
It prevents deficiencies and minerals
Restores the body's neutral pH value
How to use the Ultra Greens:
Take 10 grams of Ultra Greens per day together with some water or fruit juice or in a dessert. After mixing with liquid, consume immediately or keep in the refrigerator for up to 4 hours. Do not exceed recommended daily dose.
Important ingredients:
Spirulina
Vitamin C
chlorella
Probiotics
Contains:
30 servings
Product features
Brand:

Beautysupps

Care objective:

Health promotion

Contents:

300 gr

Gender:

Women

, Men

Packaging:

Full Size

Product Type:

Healthy skin supplement

Product line:

Skin Health

Skin type:

All Skin types

Suitable for:

Body

Texture:

Powder