Mayee Vitamin A Night Serum 15ml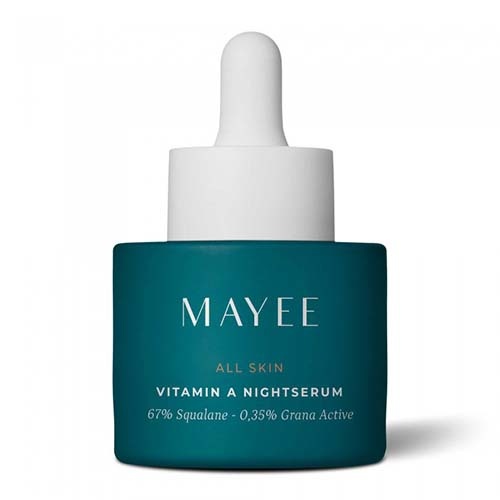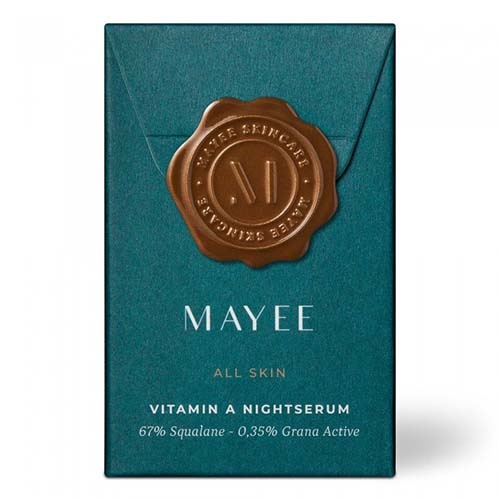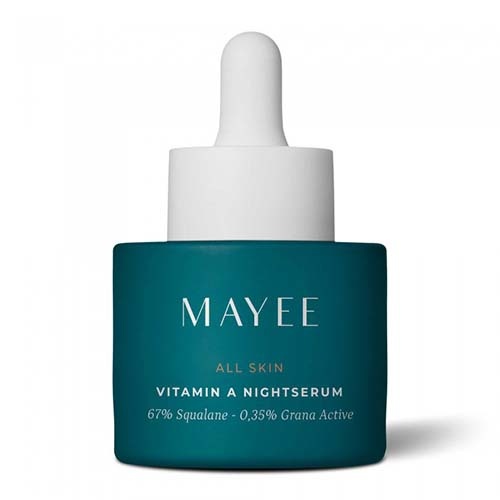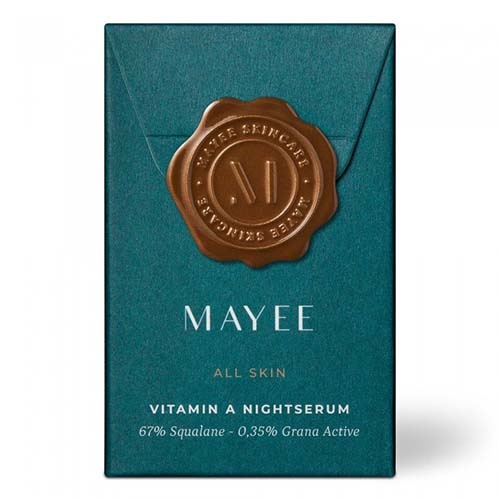 Mayee Vitamin A Night Serum
An absolute powerhouse at night works multi-functionally with many skin problems such as skin aging, sun damage, acne, and thickened skin and scars. Vitamin A Night Serum is a natural exfoliant that stimulates and accelerates cell renewal. It is suitable even for the most sensitive skin. The Defensil strengthens your skin barrier while you wake up with radiant and even skin the next day. Maximum comfort and glossy skin.
The benefits of Vitamin A Night Serum
Stimulates cell renewal
Suitable for the most sensitive skin
Strengthens the skin barrier
It gives a beautifully radiant and smooth skin as a result
This is how you use Vitamin A Night serum
Vitamin A Night Serum is the penultimate step in your beauty routine.
Apply the Hyaluron serum to a cleansed face, possibly after using an exfoliant.
Use about the size of a pea's worth of serum.
Leave it on for 2 minutes, and then apply your favourite cream.
Use only in the evening.
Protect your skin in the morning with an SPF.
*Do not use when pregnant or breastfeeding
Skin type: Suitable for all skin types. Especially suitable for mature skin, skin with coarse skin structure, large pores and scars.
Featured ingredients
Vitamin A

Vitamin A is very versatile because it is suitable for acne, fine lines, and pigmentation. In addition, it puts your skin to work without irritating.
Vitamin E
Did you know that the most effective form of Vitamin E has been used? Vitamin E ensures that you age less quickly. This is because it can neutralize oxidative damage such as UV radiation, air pollution, and stress, protecting your cells and tissues!
squalene
Squalene is suitable for every skin because it resembles our sebum. In this case, Squalene helps to absorb vitamins A and E better, making it even more effective for your skin. And that without leaving a greasy layer!
Product features
Brand:

Mayee

Care objective:

Radiant skin

, Reduction of UV damage

, Reduction of pigmentation and age spots

, Reduction of wrinkles & fine lines

, Smoother skin

Contents:

15 ml

Gender:

Women

, Men

Packaging:

Full Size

Product Type:

Retinol Serum

Skin problem:

Acne

, Scars

, Skin Aging

Skin type:

Aged skin

, All Skin types

Suitable for:

Face

Texture:

Liquid