Medik8 Sample Set Normal Skin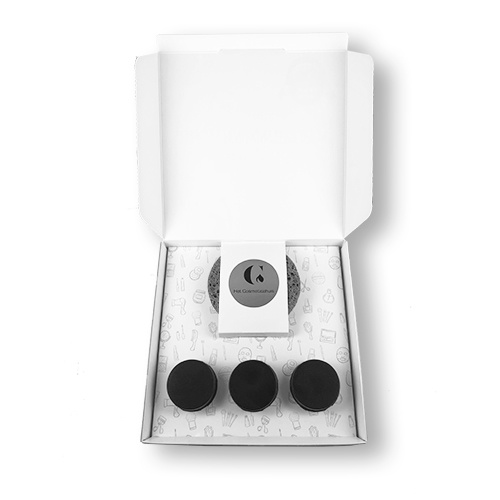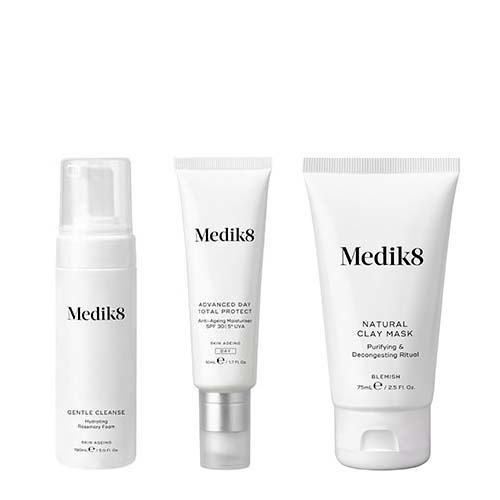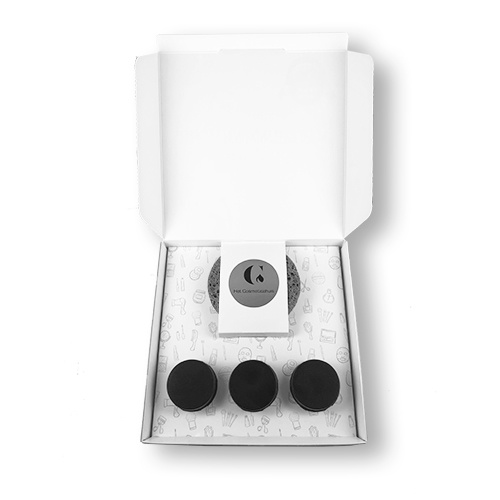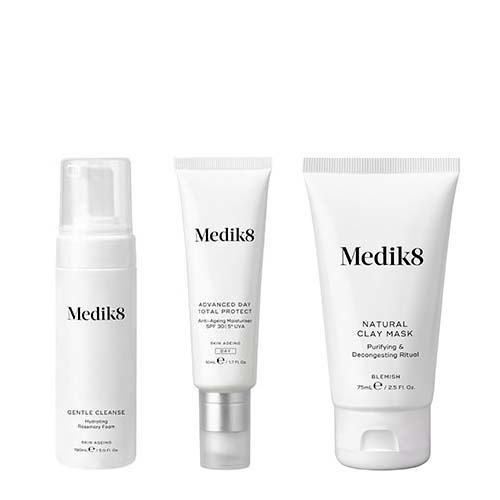 Medik8 Sample Set Normal Skin
The Medik8 Normal Skin Sample Set contains samples of the Medik8 Gentle Cleanse, Medik8 Advanced Day Total Protect and Medik8 Natural Clay Mask. Do you have a normal skin type and would you like to start a skin care routine and try the products of Medik8? Then the Medik8 Monster set normal skin is the set for you to start with.
Contents
The Medik8 Normal Skin Sample Set contains the following products:
Medik8 Gentle Cleanse (≈5ml)
Medik8 Advanced Day Total Protect (≈5ml)
Medik8 Natural Clay Mask (≈5ml)
A powerful anti-oxidant rosemary cleanser with a mild, fragrance-free and pH-neutral formula. The fine, non-exfoliating deep cleansing foam effectively removes all make-up and daily pollution.
Medik8 Advanced Day Total Protect
The perfect moisturizer to combine with vitamin C serums for the ultimate morning protection throughout the day. It is a powerful combination of ingredients to protect against all causes of premature skin aging.
A purifying clay mask to intensively cleanse the skin and refine pores, is rich in natural clay and absorbs excess sebum and impurities.

This is how you use the Monster set normal skin
Step 1: Pump a small amount of Gentle Cleanse into the palm of your hand every morning and evening and massage into damp face and neck. Gently remove the foam by sprinkling it with water and pat dry the face.
Step 2: After cleansing, apply a thin layer of Natural Clay Mask over the face, avoiding the eye area. Leave it on for 10 minutes and then rinse with warm water. Use daily or weekly to purify and brighten skin.
Step 3: After cleansing in the morning, apply a small amount of Advanced Day Total Protect to the face, neck and décolleté. Avoid the eye area. Let it absorb.

The advantages of the Monster set
You can easily try & experience the Medik8 products that suit your skin type;
It is the first step to starting your skin routine;
You will receive one free facial cleansing sponge to optimally clean your face;
You will receive one discount code for your next order; this is how you start your (new) skin routine with a 10% discount .
The Medik8 Normal Skin Monster Set is also available as a complete skin care set .

Skin advice
Are you unsure about your skin type and whether the Medik8 Monster Set for normal skin is suitable for you? Fill out the 'Tailor-made skin advice' form and our skin coaches will be happy to provide you with a targeted skin analysis, looking at which products are suitable for your skin (type).