SkinCeuticals Skin Care Set Sensitive Skin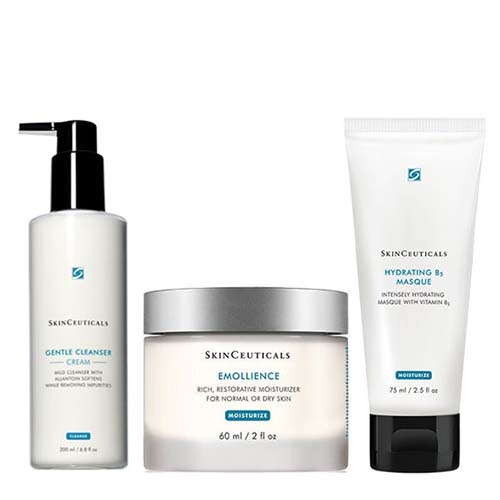 SkinCeuticals Skin Care Set Sensitive Skin
contains the products you need for your daily skin care routine.
Content
The SkinCeuticals Skin Care Set Sensitive Skin contains the following products:
Gentle Cleanser 200ml
Emollience 60ml
Phyto Corrective Masque 60ml
A creamy gentle cleanser that gently cleanses the skin. This non-foaming, gentle cleanser efficiently removes impurities and long-wearing make-up, without leaving marks, and softens and strengthens the skin barrier.
Emollience is a full-bodied, nourishing and restorative cream, formulated with an exclusive combination of natural extracts and essential oils, making it a rich, restorative cream for dry skin and sensitive skin types. This moisturizer has an elegant, gentle formula and is quickly and easily absorbed by the skin.
An intensive, soothing facial mask that cools the skin, intensively softens the skin and restores its natural glow and softness.
Usage
Step 1: Apply a small amount to your face and massage it in. Add some water if necessary. Then remove well several times with sufficient water. You can use the cleanser in the morning and in the evening.
Step 2: Apply the mask in a thick layer on cleansed skin (not on the eyes). Leave it on for 10 to 15 minutes. Then remove it with cold water. Use the mask 2 to 3 times a week. You can also leave the mask on all night.
Step 3: Apply morning and evening to cleansed skin after the serum.
Product features
Brand:

Skinceuticals

Care objective:

Calmed skin

, Purifies the skin

, Recovery of the skin

, Redness reduction

, Reducing skin irritation

Gender:

Women

, Men

, Teenager

Packaging:

Skincare set

Skin problem:

Couperose

, Eczema

, Red skin

, Rosacea

, Skin irritation

Skin type:

Sensitive skin

Suitable for:

Face