SkinCeuticals Skincare set aged skin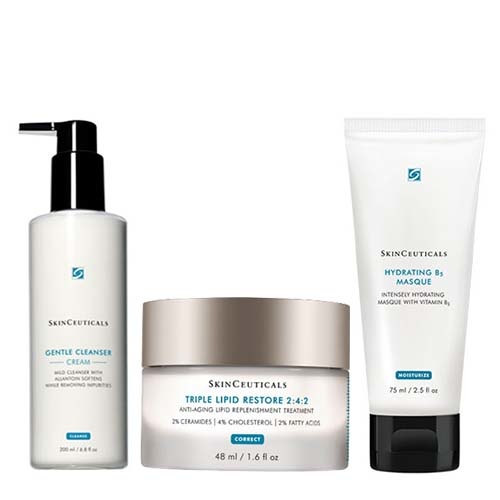 SkinCeuticals Skincare set aged skin
contains the products you need for your daily skin care routine.
Content
The SkinCeuticals Skincare Set Aged Skin contains the following products:
Gentle Cleanser 200ml
Triple Lipid Restore 2:4:2 48ml
Hydrating B5 Mask
A creamy gentle cleanser that gently cleanses the skin. This non-foaming, gentle cleanser efficiently removes impurities and long-wearing make-up, without leaving marks, and softens and strengthens the skin barrier.
An anti-aging cream formulated with a concentration of lipids: 2% pure ceramides, 4% natural cholesterol and 2% fatty acids. This unique lipid correction cream consists of the first 2:4:2: cholesterol-dominant ratio to help the skin repair its outer layer and support the skin's natural repair. It nourishes the skin to improve the visible signs of skin aging and makes the skin and pores smoother, firmer and provides total radiance.
An intensive hydration gel mask to replenish the skin's hydration levels. Hydrating B5 Masque replenishes moisture-deficient skin and restores its healthy, youthful appearance.
Usage
Step 1: Apply a small amount to your face and massage it in. Add some water if necessary. Then remove well a few times with enough water. You can use the cleanser in the morning and in the evening.
Step 2: Apply the mask in a thick layer on cleansed skin (not on the eyes). Leave it on for 5 to 10 minutes. Massage the rest. Use the mask 1 to 2 times a week.
Step 3: Apply the product to the face, neck and décolleté twice a day. If using the product in the morning, use after applying a SkinCeuticals Vitamin C Antioxidant Serum. Finally, apply the SkinCeuticals sun cream to the skin.
Product features
Brand:

Skinceuticals

Care objective:

Improve hydration

, Purifies the skin

, Radiant skin

, Recovery of the skin

, Reduction of coarse pores

, Reduction of wrinkles & fine lines

, Skin Firming

Gender:

Women

, Men

, Teenager

Packaging:

Skincare set

Skin problem:

Skin Aging

Skin type:

Aged skin

Suitable for:

Face