Cenzaa Skin care set oily skin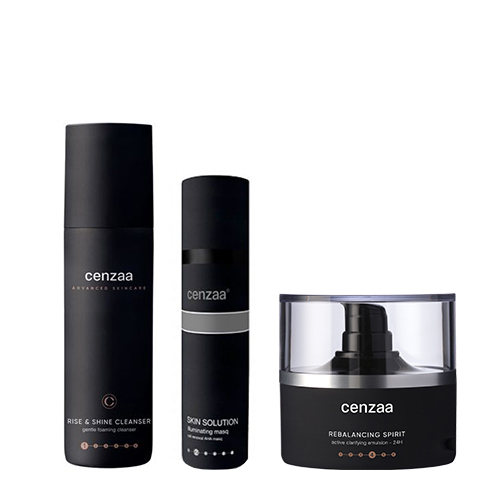 Cenzaa Skin care set oily skin
contains the products you need for your daily skin care routine.
Contents
The Cenzaa Skin Care Set oily skin contains the following products:
Cenzaa Rise & Shine Cleanser 200ml
Cenzaa Illuminating Masq 50ml
Cenzaa Rebalancing Spirit 50ml
The Cenzaa Rise & Shine Cleanser cleans the skin in a sparkling, silky way without drying it out. The cleanser has a pleasant scent and immediately gives a refreshing feeling and purifies and hydrates your skin.
The Cenzaa Illuminating Masq is an intensive mask that removes skin imperfections and reduces coarse pores, a dull complexion and unwanted wrinkle formation.
The Cenzaa Rebalancing Spirit balances stressed, combination and oily skin through the union between nature and technology. Your skin regains its normal functions, leaving it looking matted, clear and healthy.
Usage
Step 1: cleanse your face with the Cenzaa Rise & Shine Cleanser. You can use this product daily, both in the morning and in the evening. Massage the cleanser with lukewarm water until a creamy gel is formed, then rinse generously with water. Tip: this cleanser can also be used as a shower gel.
Step 2: give your face an intensive mask with the Cenzaa Illuminqting Masq. Apply this product to cleansed skin two to three times a week and leave it on for 15 minutes. You may experience a tingling sensation when the mask takes effect. Remove the mask after 15 minutes with lukewarm water.
Step 3: nourish your face with the Cenzaa Rebalancing Spirit. You can use this cream daily; Apply evenly in an upward motion to cleansed face, neck and décolleté every morning and evening.
Product features
Brand:

Cenzaa

Care objective:

Calmed skin

, Improve hydration

, Reduction of coarse pores

, Reduction of wrinkles & fine lines

, Skin tone improvement

Gender:

Women

, Men

, Teenager

Packaging:

Skincare set

Skin type:

Oily skin

Suitable for:

Face