D-SKIN INSIDE Collagen Tea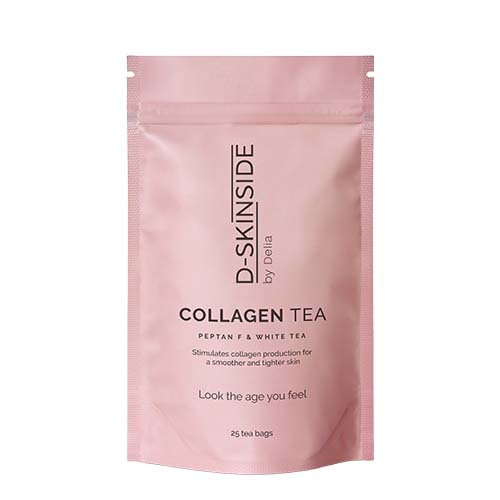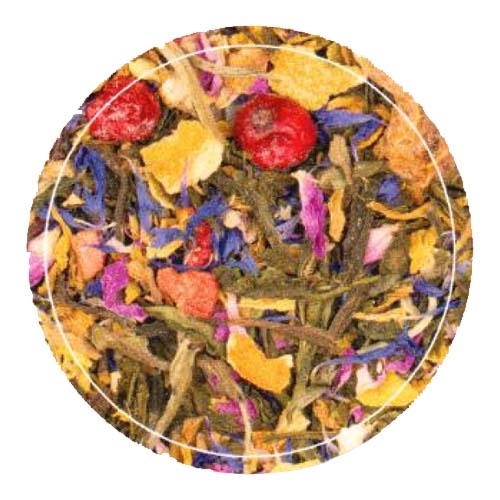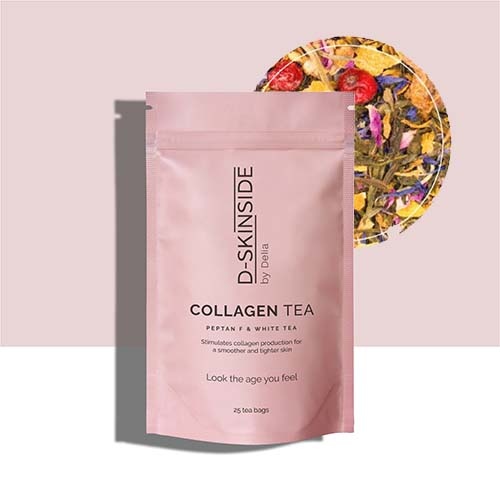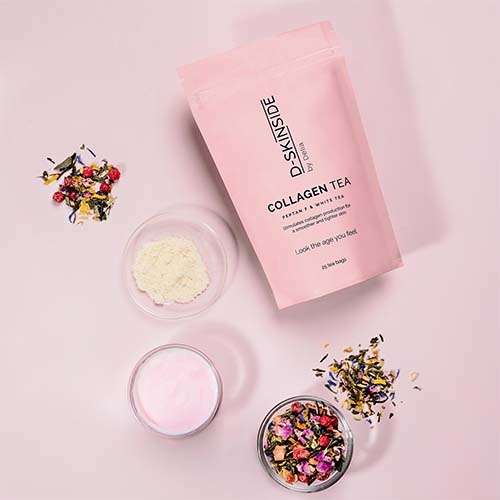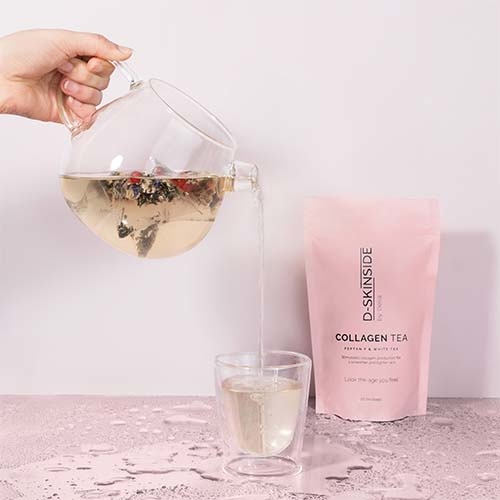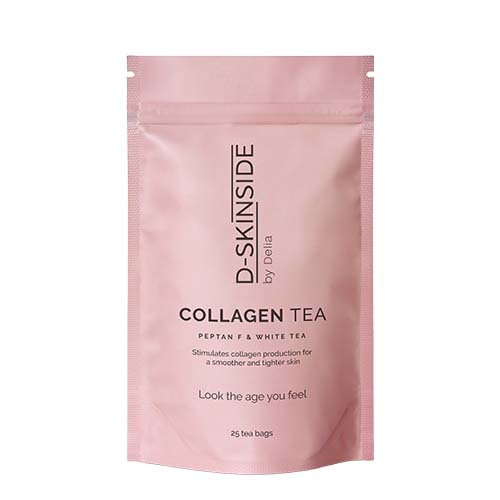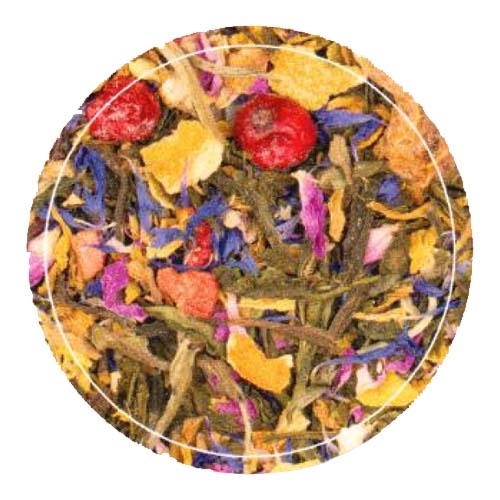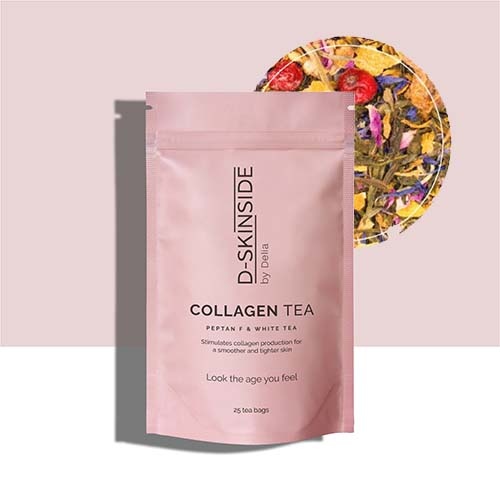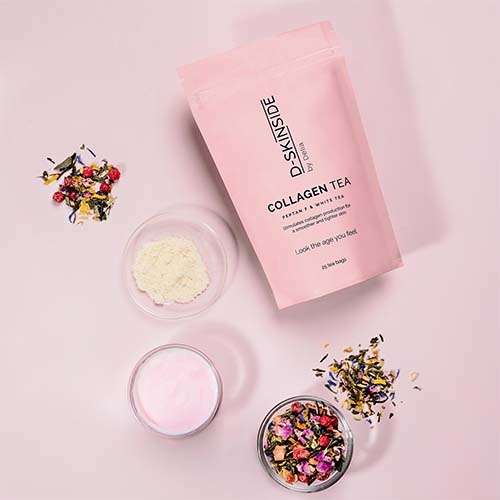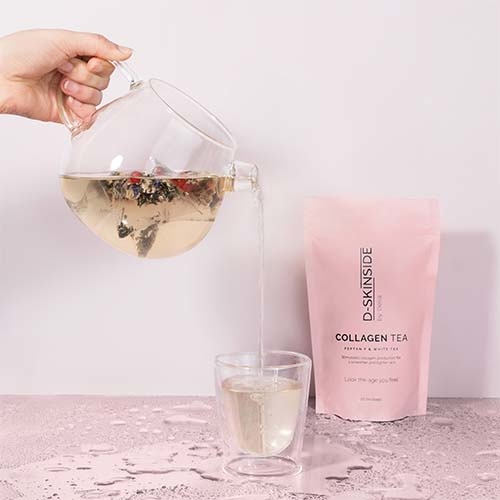 D-SKIN INSIDE Collagen Tea
Did you know that your skin (connective tissue) consists of 70% collagen? This is by far the most important (body's own) protein in our skin. You could say that collagen holds our skin together. After the age of 25, the amount and production of collagen decreases by about 1% per year - in the menopause this goes even faster. Topical supplementation of collagen is virtually impossible because the molecules are too large to penetrate the skin through the surface. Oral collagen intake, on the other hand, is effective - especially when combined with vitamin C.
The D-SKIN INSIDE Collagen Tea provides the skin with all the building materials to stimulate collagen production and slow down its breakdown process. The tea has a fresh taste of orange with a warm aroma of white tea - studded with rose petals, this is the ideal tea for daily consumption.
The benefits of the Collagen Tea
Stimulates collagen production
Counteracts signs of skin aging such as dehydration and wrinkles
Restores the moisture balance of the skin and is rich in antioxidants
Activates the fibroblast and protects the skin from cell damage
This is how you use the Collagen Tea
Add 1 tea bag of the Collagen Tea per tea cup. Add 250ml of hot water to this. Let the tea steep for 5 to 10 minutes.
Ingredients
white tea
White tea is one of the least processed teas and has a high content of catechins (antioxidants). This makes the tea able to neutralize harmful free radicals. The breakdown of collagen is also inhibited by weakening of metalloproteinases (proteins that break down collagen). This in turn ensures a skin with more collagen and elastin and a more resilient skin.
Strawberry
Strawberries are rich in vitamin C – another substance that boosts the elasticity and resilience of the skin. Vitamin C is also a powerful antioxidant that provides a natural booster for the immune system - stronger skin barrier, reduced inflammation and slowing down premature skin aging. In addition, strawberries are rich in ellagic acid, which helps neutralize the effects of, for example, smoking and sunlight.
Orange
We are not familiar with a more well-known form of vitamin C – oranges are a rich source of vitamin C. Vitamin C plays an important role in the collagen production of the skin. Oranges also contain beta-carotene (hence the orange color), also known as provitamin A. This antioxidant is good for preventing signs of skin aging. Oranges are also a great source of antioxidants – these can stimulate cell repair and prevent damage from UV rays.
red currant
Antioxidants are a booster for the immune system and can strengthen the resistance (of your skin) and ward off diseases. Red currants are a good source of antioxidants – rich in vitamin C and manganese.
fish collagen
Collagen is available in different types (think beef and pork collagen). Collagen is obtained from the tendons, bones and skins of various animals. However, fish collagen is the closest type of collagen to human collagen. In addition, fish collagen is rich in hydroxyproline – an important component of the skin. Fish collagen contributes to improving the moisture of the skin.
Product features
Gender

Women

, Men

, Teenager

Skin type

Aged skin

, Dehydrated skin

, Dry skin

Skin problem

Skin Aging

Product Type

Tea

Care objective

Improve hydration

, Improve skin elasticity

, Reduction of wrinkles & fine lines

, Skin Firming

Suitable for

Body

Product characteristic

Suitable for Breastfeeding

, Suitable for pregnancy

Contents

50 gr

Packaging

Full Size

Brand

D-SKIN