Image Skincare Skin care set dehydrated skin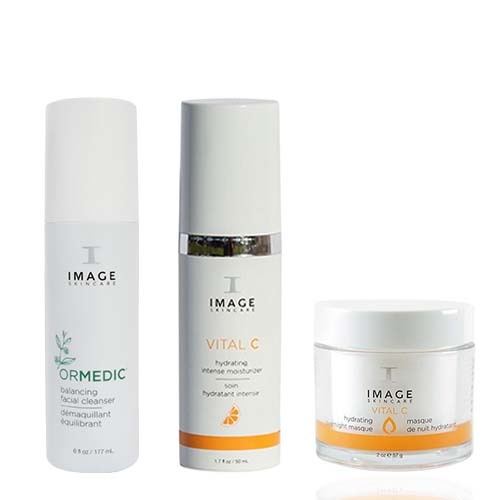 Image Skincare Skin care set dehydrated skin
contains the products you need for your daily skin care routine.
Content
The Image Skincare Skincare set dehydrated skin contains the following products:
Ormedic - Balancing Facial Cleanser 177ml
Vital C - Hydrating Intense Moisturizer 50ml
Vital C - Hydrating Overnight Masque 57gr
Powerfully yet gently cleanses dirt, impurities and make-up to start with a clean slate. The fruity, green aromas provide an intense fragrance experience.
A moisturizer that hydrates throughout the day with time-released technology, which provides an intense, long-lasting moisture release.
This night cream contains a triple mineral complex that nourishes and cares for the skin for a vital radiance. While you sleep, the gel ensures that the skin is hydrated and that essential ingredients are absorbed into the skin.
Usage
Step 1: Mix the cleanser with some water in your hands to let the product emulsify. Apply to the face, neck and décolleté and cleanse for 1-2 minutes. Remove with sponges and lukewarm water or with warm compress cloths. Use morning and evening.
Step 2: Apply morning and evening to a cleansed face over a serum. Ideal when you can get too little hydration from the day or night cream. This product can be applied under the day and night cream
Step 3: Before going to bed, apply the Vital C - Hydrating Overnight Masque evenly in a thick layer on a cleansed face and let the cream soak in overnight. Wash your face in the morning with lukewarm water. Use the Vital C - Hydrating Overnight Masque 2 to 3 times a week, or as needed.