Image Skincare Skincare set oily skin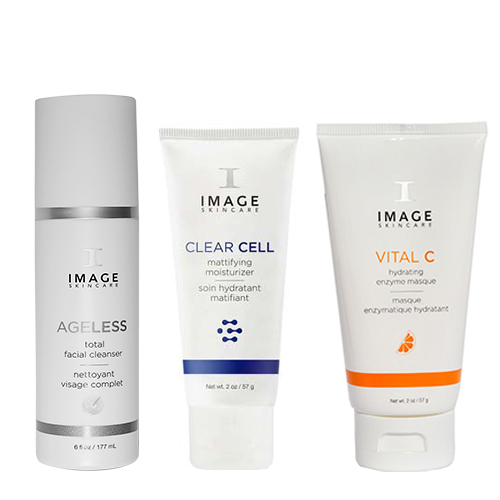 IMAGE Skincare Skincare set oily skin
contains the products you need for your daily skin care routine.
Contents
The IMAGE Skincare Skincare set oily skin contains the following products:
AGELESS - Total Facial Cleanser 177ml
CLEAR CELL - Mattifying Moisturizer 57gr
VITAL C - Hydrating Enzyme Masque 57gr
A universal foaming cleanser that cleans all make-up and reduces sebum. The total facial cleanser of the AGELESS line rebalances the pH value and refreshes the skin like a toner.
A lightweight soothing and moisturizing cream that calms irritated skin. The botanical ingredients in the formula soothe the skin and inflammation and make it healthy again. Vitamin B6 ensures a healthy skin balance and visibly reduces coarse pores, shine of the skin and sebum production. The cream leaves a nice mattifying effect on the skin and moisturizes for a long time.
A moisturizing vitamin C/enzymatic mask. It gently removes dead skin cells with enzymes and adds essential antioxidants and minerals to improve the skin.
This is how you use the skin care set
Step 1: Moisten your hands and apply AGELESS cleanser liberally to the face and neck in the morning and evening. Massage gently for 1 minute, then remove with warm water.
Step 2: Apply the Hydrating Enzyme Masque in a thin layer to cleansed skin. Leave the mask on for 5 to 30 minutes. Rinse gently with cold water. Use one to three times a week.
Step 3: Finally, apply the Clear Cell Moisturizer and massage it in. Preferably apply a serum before the cream and use a PREVENTION+ day cream during the day to protect your skin against harmful UV radiation.
Product features
Brand:

IMAGE Skincare

Care objective:

Calmed skin

, Improve hydration

, Matte finish

, Reduce Pimples & Blemishes

, Reduction of coarse pores

Gender:

Women

, Men

, Teenager

Packaging:

Skincare set

Skin problem:

Acne

Skin type:

Oily skin

Suitable for:

Face