Mesoestetic Skincare set oily skin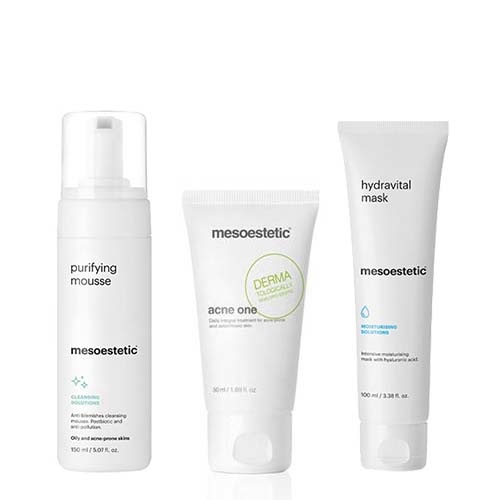 Mesoestetic Skincare set oily skin
contains the products you need for your daily skin care routine.
Content
The Mesoestetic Skin Care Set oily skin contains the following products:
Purifying Mousse 150ml
Acne One 50ml
Hydravital Mask 100ml
Mesoestetic Purifying Mousse is a daily cleansing mousse for acne-prone skin and has a purifying, disinfecting effect. This cleansing mousse soothes irritated skin, increases the skin's hydration level, actively removes impurities and fights the development of micro-organisms. In addition, the Mesoestetic Purifying Mousse ensures that the pores are reduced, the skin evens out and mattifies. This cleaning is also suitable for responsible make-up removal.
Specially developed for the daily fight against acne-prone or oily skin. Addresses sebum production and redness.
Intensive treatment that restores the moisture content of dry, dehydrated and/or devitalized skin. The complex formula revitalizes the skin by providing deep hydration, nourishment and strengthening the skin barrier. The result is smoother, more elastic and protected skin, which can prevent premature aging. The soft, creamy texture gives the skin comfort, softness and an immediate glow.
This is how you use the skin care set
Step 1: Apply Mesoestetic Purifying Mousse to a damp face. Rub gently until it becomes a foam. Remove with plenty of water. The skin can become dry and flaky, if this is the case use the Mesoestetic Facial Gel Cleanser and alternate with it, build up slowly.
Step 2: Apply the mask in a thick layer on cleansed skin (not on the eyes). Leave it on for 20 minutes and then remove it with water. Use the mask 2 to 3 times a week.
Step 3: Apply a thin even layer every day. Apply to clean, cleansed skin, avoiding the eyes. If the skin becomes very dry or the skin starts to flake, reduce the use, for example every other day. Build up slowly and alternate with the Mesoestetic Regenerance Active. We recommend using sun protection during the day.
Product features
Brand:

Mesoestetic

Care objective:

Calmed skin

, Improve hydration

, Matte finish

, Reduce Pimples & Blemishes

Gender:

Women

, Men

, Teenager

Packaging:

Skincare set

, Full Size

Product Type:

Cleansing Mousse

, Day and night cream

, Face mask

Skin type:

Oily skin

Suitable for:

Face

, Neck & décolleté