Murad Skin care set aged skin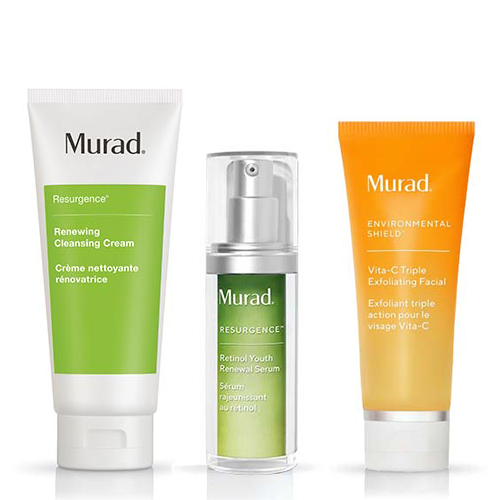 Murad Skin care set aged skin
contains the products you need for your daily skin care routine.
Content
The Murad Skin Care Set Aged Skin contains the following products:
Renewing Cleansing Cream 200ml
Retinol Youth Renewal Serum 30ml
Vita-C Triple Exfoliating Facial 80ml
Murad Renewing Cleansing Cream
This cleanser improves the appearance of your skin by gently exfoliating it. This cleanser restores and protects the skin's natural moisture barrier and gives dull skin shine again.
Murad Retinol Youth Renewal Serum
The best-selling retinol serum in America! Anti-aging serum with a high percentage of retinol. It contains the Tri-Active Technology that ensures a slow release of active ingredients and retinol during the night. During this slow release, retinol and ceramides are released so that the skin will not dry out.
Murad Vita-C Triple Exfoliating Facial
Removes dead skin cells and brightens and gives skin a beautiful radiant glow.
Usage
Step 1: cleanse your skin with the Renewing Cleansing Cream. Mix a small amount with water and apply to the face and neck. Massage in lightly. Then remove with water.
Step 2: Apply to clean, damp skin and massage over skin in circular motions. When the formula changes color, from orange to white, it is easy to see if the product has been applied evenly. Now leave the product on for 10 minutes, then wipe the exfoliator off the face with damp hands until the product is completely removed. Gently pat the skin dry. Use 2-3 times a week.
Step 3: Apply the Retinol Youth Renewal Serum as a night serum before sleeping.