Prescription Desert Skin/Dry Skin Skin Concern Pack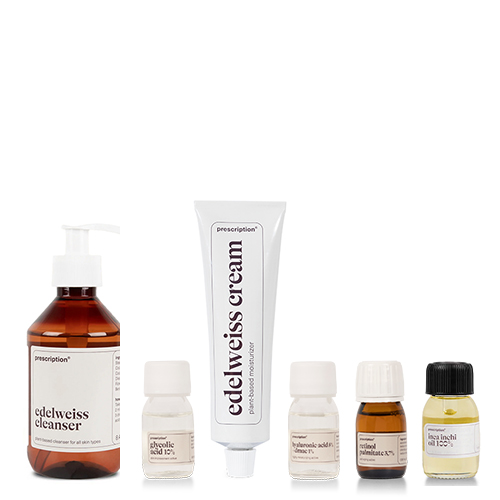 Desert Skin/Dry Skin Skin Concern Pack
Do you suffer from dry skin? Even sometimes so dry that it starts pulling and fine lines appear? Then we speak of a desert skin. And would you like to give a recipe to ensure that your skin is (and remains) well hydrated and nourished? Then we advise you to use the Desert Skin/Dry Skin Skin Concern Package,
With a simple recipe you will see results after 2 weeks. Read below how to mix & match these actives. And watch the video for an explanation of how to use the products.
The package contains the following products
Vegan Edelweiss Cleanser
Glycolic Acid10%
Vegan Edelweiss Cream
Hyaluronic Acid5% + DMAE1%
Inca Inchi Oil 100%
Retinol Palmitate3.7%.
What can you expect?
With the combination of these products, your skin is carefully exfoliated and then extremely nourished. And you notice after a few days that your skin feels fuller. You will see that your skin is more hydrated and nourished after 2 weeks. Your skin texture will also refine and your cell renewal will be stimulated. Final result? Healthy and hydrated skin.
How do you mix the products?
Every evening and morning you clean with the Vegan Edelweiss Cleanser.
Add 2 drops of Glycolic Acid10% 4 times a week, in the evening.
Every evening you apply Inca Inchi Oil 100%, and you add 2 drops of Retinol Palmitate 3.7% 2x a week.
Every morning you apply Vegan Edelweiss Cream and add 2 drops Hyaluronic Acid5% + DMAE1%.
What do these products actually do for your skin?
Glycolic Acid10%

Intensive exfoliant that removes dead skin cells and works to reduce fine lines, blemishes and improve skin texture.

Hyaluronic Acid5% + DMAE1%

This active provides extreme hydration due to the high dose of hyaluronic acid. And has a restorative effect and stimulates cell division.

Inca Inchi Oil 100%

The 100% natural face oil that beautifully nourishes and protects the skin without clogging.

Retinol Palmitate3.7%

This active has a strong anti-aging effect and a powerful antioxidant that keeps the skin young, smooth and strong.
Also available seperately