Prescription Retinol Palmitate 3.7% 25ml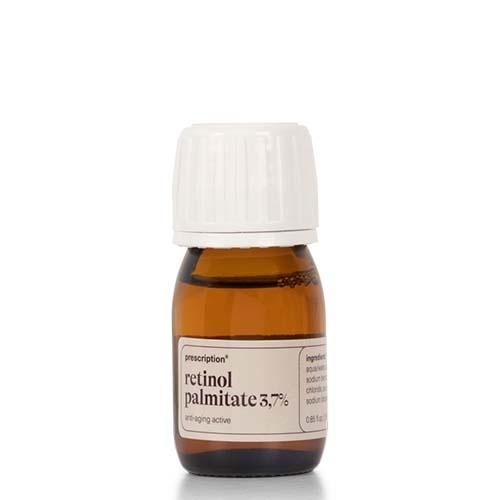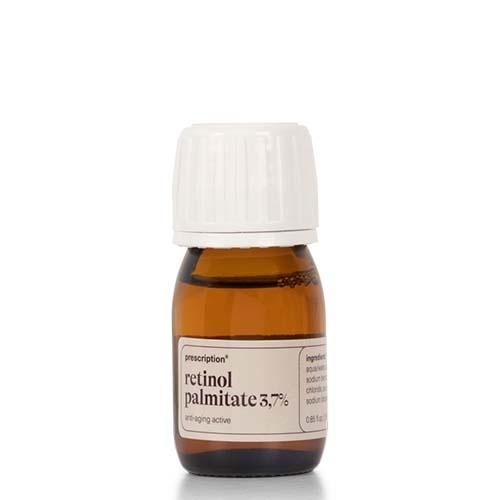 Retinol Palmitate 3.7%
A super active vitamin A that is converted by the skin into Retinol. Vitamin A, or Retinol, is the best proven ingredient against skin aging. It is a powerful antioxidant that keeps the skin young, smooth and strong.
The Benefits of Prescription Retinol Palmitate 3.7%
Reduces wrinkles and fine lines
Tightens the skin
Makes the skin smoother
Blocks free radicals, such as air pollution
Effective in treating pimples and eczema
What can you expect from this active?
Vitamin A used to be prescribed to people with acne complaints. After the treatment, not only was the acne greatly reduced, but the skin was much more beautiful with fewer large pores, much smoother and looked much younger. A very interesting side effect that has led to the fact that Retinol, or a vitamin A acid, is also recommended for skin rejuvenation.
Skin goal: fresh, oil-free skin, acne-free, fine pores, lifted skin structure, skin without lines, hydrated skin.
How to use Retinol Palmitate 3.7%
The dosages depend on a number of factors such as your skin type and condition, your age, lifestyle and of course your wishes: what results you want to achieve.
Mix 4 drops with the Prescription Edelweiss cream or Inca Inchi Oil.
Apply as a night cream, so before going to bed on cleansed skin.
Also use pure and then apply the oil or cream, so that the skin can recover even better and more intensely while sleeping.
About the Vegan Edelweiss Cleanser and Vegan Edelweiss Cream
The Vegan Edelweiss Cleanser and Vegan Edelweiss Cream are 100% plant-based and formulated to suit all skin types. They are the perfect carriers to ensure that this active can do its job. The ingredient Edelweiss also makes these vegan basics a powerful antioxidant!
Product features
Gender

Women

, Men

Skin type

Aged skin

, Normal skin

Skin problem

Eczema

, Pigmentation

, Red skin

, Skin Aging

, Skin irritation

Product Type

Retinol Serum

Care objective

Improve hydration

, Reduce Pimples & Blemishes

, Reducing skin irritation

, Reduction of coarse pores

, Reduction of wrinkles & fine lines

, Smooth skin

Suitable for

Face

Texture

Liquid

Contents

25 ml

Packaging

Travel Size

, Full Size

Brand

Prescription

Key Ingredients

Vitamin-A
---
Fijn serum. Er zitten korrels in dus bij het aanbrengen voel je dit wel op je huid. Even doorsmeren en dat gevoel is weg. Mengt mooi als je hierna een Moisturizer en/of sunscreen aanbrengt.