Prescription Pigmentation Skin Concern Pack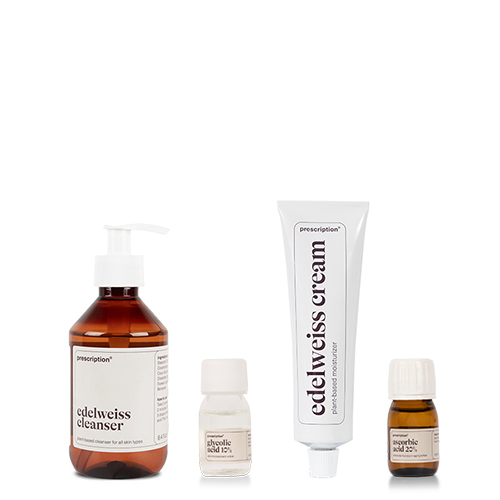 Prescription Pigmentation Skin Concern Pack
Do you suffer from dark spots on your skin? Or do you even have strong over pigmentation? And would you like to have (and keep) an even and fresh skin tone? Then we advise you to use the Pigmentation Skin Concern Package.
With this package, you will see results after two weeks. Read below how to mix & match these actives. And watch the video for an explanation of how to use the products.
The package contains the following products.
Vegan vehicle cleanser
Glycolic acid10%
Vegan vehicle cream
Ascorbic acid20%
And what can you expect?
These actives substantially equalize your skin tone and powerfully stimulate your cell renewal. As a result, you will soon see that your skin becomes more even. Final result? A fine and even skin texture and complexion.
How do you mix the products?
Every evening and morning, you clean with the vegan vehicle cleanser
3 to 5 times a week, you add two drops of glycolic acid10% in the evening
Every evening and morning, you apply vegan vehicle cream and add two drops of ascorbic acid 20%.
What do these actives do for my skin?
Glycolic acid10%

Intensive exfoliant removes dead skin cells and reduces fine lines, blemishes, and improves skin texture.

Ascorbic acid20%

Stimulates collagen production and therefore has a firming effect. And it evens out your skin.
Also available seperately
---
Mijn huid moest even aan dit product wennen maar nu ik het een tijdje in gebruik heb zie ik zeker resultaat! Mijn huid lijkt egaler te worden. Fijn product, ruikt prima!
Wat een fijne producten. Het smeert fijn uit en wordt goed geabsorbeerd door de huid waardoor het niet vettig is. Mijn gevoelige huid wordt hiermee verzacht. De geur is prettig een beetje bloemig en fris maar niet overheersend. Ik blijf deze producten zeker gebruiken.
De crème voelt enorm zacht aan op de huid en zorgt ervoor dat mijn huid niet glimt. Hij verzacht echt. Ik vind het fijn dat er een product is dat op een fijne manier pigmentatie aanpakt, mijn huid wordt er rustiger van en ziet er gezond uit.