Prescription Troubled Skin Skin Concern Pack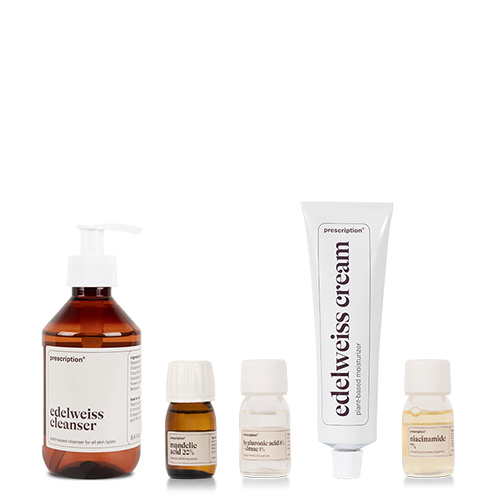 Prescription Troubled Skin Skin Concern Pack
Is your skin restless and do you quickly suffer from blockages and/or imperfections? And would you like to have (and keep) a calm and strong skin? Then we recommend the Troubled Skin Skin Concern Package
With a simple recipe you will see results after 2 weeks. Read below how to mix & match these actives. And watch the video for an explanation of how to use the products.
The package contains the following products
Vegan Edelweiss Cleanser
Mandelic Acid20%
Hyaluronic Acid5% + DMAE1%
Vegan Edelweiss Cream
Niacinamide7%
What can you expect?
You will soon experience that your skin becomes calmer. After 4 weeks you will really see the difference that your skin is much stronger, without blemishes and blockages. Your skin texture will also refine and your cell renewal will be stimulated. Final result? A calm and healthy skin structure.
How do you mix the products?
Every evening and morning you clean with the Vegan Edelweiss Cleanser.
In the evening, add 2 drops of Mandelic Acid 20% to the Cleanser.
Every evening and morning you apply Vegan Edelweiss Cream.
In the evening you add 3 drops of Niacinamide7%.
In the morning, add 3 drops of Hyaluronic Acid5% + DMAE1%.
What do these products actually do for your skin?
Mandelic Acid20%

This active offers the safest way to intensively exfoliate and renew your skin.

Hyaluronic Acid5% + DMAE1%


This active provides extreme hydration due to the high dose of hyaluronic acid. And has a restorative effect and stimulates cell division.

Niacinamide7%

The newest ingredient in the field of skin improvement and rejuvenation and strengthening the skin barrier.
Also available seperately