Prescription Wrinkles/Aged Skin Skin Concern Package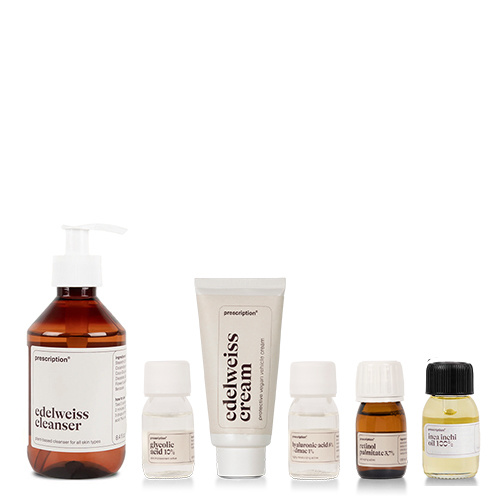 Prescription Wrinkles/Aged Skin Skin Concern Package
Has your skin aged more recently? And will you see the fine lines more and more? Then it is important to ensure that your skin is (and remains) well hydrated, nourished and fresh. We advise you to use the Wrinkles/Aged Skin - Skin Concern Package.
With this package you will see results after 2 weeks. Read below how to mix & match these actives. And watch the video for an explanation of how to use the products.
The package contains the following products
Vegan Edelweiss Cleanser
Glycolic Acid10%
Vegan Edelweiss Cream
Hyaluronic Acid5% + DMAE1%
Inca Inchi Oil
Retinol Palmitate3.7%
What can you expect?
With the combination of these products, your skin is exfoliated very effectively and then extremely nourished. Within a week your skin will feel much softer. And after 2 or 3 weeks, the fine lines will start to fade and your skin will be much more nourished. Your skin texture will also refine and your cell renewal will be stimulated. Final result? Healthy and hydrated skin.
This is how you mix the products
Every evening and morning you clean with the Vegan Edelweiss Cleanser.
Add 2 drops of Glycolic Acid10% to the Cleanser 4 times a week, in the evening.
Every evening you apply the Inca Inchi Oil 100%, and add 2 drops of Retinol Palmitate3.7% to it, twice a week.
Every morning you apply the Vegan Edelweiss Cream. To this Cream you add 2 drops Hyaluronic Acid5% + DMAE1%.
What do these actives actually do for my skin?
Glycolic acid10%

Intensive exfoliant that removes dead skin cells and works to reduce fine lines, blemishes and improve skin texture.

Hyaluronic Acid5% + DMAE1%


This active provides extreme hydration due to the high dose of hyaluronic acid. And has a restorative effect and stimulates cell division.

Inca Inchi Oil 100%

The 100% natural face oil that beautifully nourishes and protects the skin without clogging.

Retinol Palmitate3.7%

This active has a strong anti-aging effect and a powerful antioxidant that keeps the skin young, smooth and strong.
Product features
Brand:

Prescription

Care objective:

Improve hydration

, Reduction of wrinkles & fine lines

, Smooth skin

, Stimulates cell renewal

Gender:

Women

, Men

Packaging:

Skincare set

Skin problem:

Skin Aging

Skin type:

Aged skin

Suitable for:

Face