Cenzaa Skin care set aged skin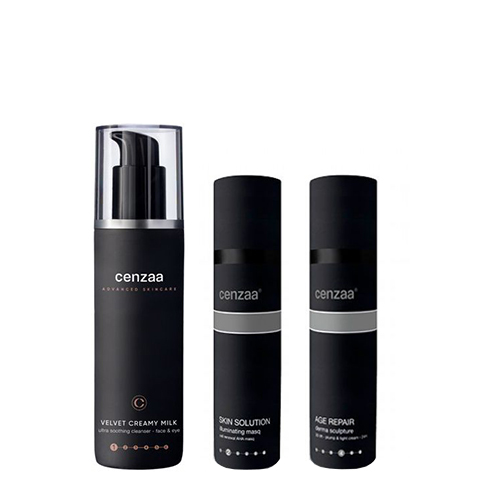 Cenzaa Skin care set aged skin
contains the products you need for your daily skin care routine. The Cenzaa Skin Care Set Aged Skin contains the following products:
Cenzaa Velvet Creamy Milk 200ml
Cenzaa Illuminating Masq 50ml
Cenzaa Derma Sculpture 50ml
Cenzaa Velvet Creamy Milk
The Cenzaa Velvet Creamy Milk is a 3-in-1 formula: cleanser, make-up and (eye) make-up remover. It has a soft, creamy emulsion and gives a wonderful fragrance sensation and melts slowly on the skin. The Velvet Creamy Milk is rich in nourishing, anti-oxidative, skin-improving and protective ingredients.
Cenzaa Illuminating Masq
The Cenzaa Illuminating Masq is an intensive mask that removes skin imperfections and reduces coarse pores, a dull complexion and unwanted wrinkle formation.
Cenzaa Derma Sculpture
The Cenzaa Derma Sculpture rejuvenates, lifts and remodels the skin, so that it regains its maximum elasticity, firmness and even complexion. This cream is formulated on the basis of the latest anti-age technology.
How to Use the Cenzaa Skin Care Set for Aging Skin
Step 1: cleanse your face with the Cenzaa Velvet Creamy Milk. You can use this product every day, both in the morning and in the evening. Wet your face with warm water. Apply the creamy emulsion to your face and massage it in gently with upward movements. Remove the cleaner using facial sponges and/or water.
Step 2: give your face an intensive mask with the Cenzaa Illuminqting Masq. Apply this product to cleansed skin two to three times a week and leave it on for 15 minutes. You may experience a tingling sensation. Remove the mask after 15 minutes with lukewarm water.
Step 3: rejuvenate your face with the Cenzaa Derma Sculpture anti-aging cream. You can use this product daily; Apply evenly in an upward motion to cleansed face, neck and décolleté every morning and evening.