Cenzaa Skin care set dry skin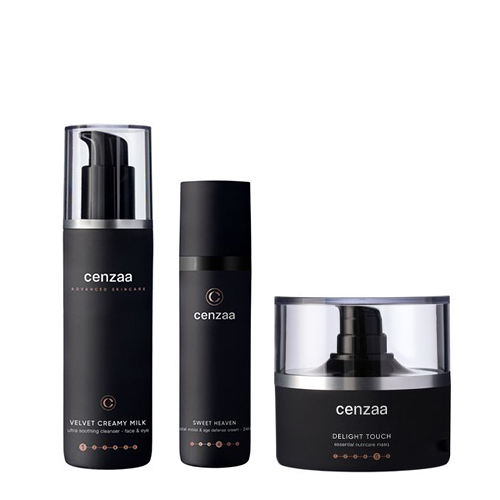 Cenzaa Skin care set dry skin
contains the products you need for your daily skin care routine.
Contents
The Cenzaa Skin Care Set Dry Skin contains the following products:
Cenzaa Velvet Creamy Milk 200ml
Cenzaa Delight Touch 50ml
Cenzaa Sweet Heaven 50ml
The Cenzaa Velvet Creamy Milk is a 3-in-1 formula: cleanser, make-up and (eye) make-up remover. It has a soft, creamy emulsion and gives a wonderful fragrance sensation and melts slowly on the skin. The Velvet Creamy Milk is rich in nourishing, anti-oxidative, skin-improving and protective ingredients.
The Cenzaa Delight Touch is an intensively moisturizing, restorative and nourishing mask. It provides an energetic and radiant skin and can be used as an intensive night care.
The Cenzaa Sweet Heaven cream intensively restores dehydrated and dry skin and prevents skin aging. The creamy 24-hour cream makes your skin glow.
Usage
Step 1: cleanse your face with the Cenzaa Velvet Creamy Milk. You can use this product daily, both in the morning and in the evening. Wet your face with warm water. Apply the creamy emulsion to your face and massage it in gently with upward movements. Remove the cleaner using facial sponges and/or water.
Step 2: repair, hydrate and nourish your face with the Cenzaa Delight Touch. Apply this product to cleansed skin once or twice a week and leave it on for 10 to 15 minutes. You can then massage in or remove the mask with lukewarm water. Tip: when you use this mask in the evening, you can use it as an intensive night care.
Step 3: nourish your face with the moisturizing Cenzaa Sweet Heaven. You can use this product daily; Apply evenly in an upward motion to cleansed face, neck and décolleté every morning and evening.